This item has been supplied by a forage marketer and has not been edited, verified or endorsed by Hay & Forage Grower.
Krone North America has been recognized by its dealer network as a top-performing agricultural equipment company, earning a Gold Level Dealer's Choice Award based on feedback from the agricultural equipment dealer 2017 Dealer-Manufacturer Relations Survey. The survey is administered annually, and results tabulated, by the Equipment Dealers Association (EDA).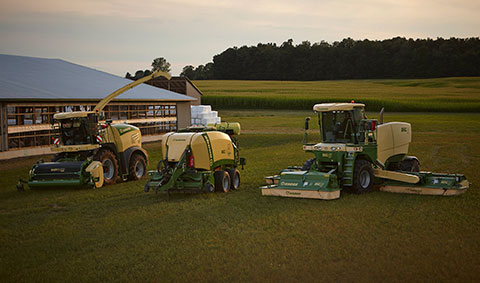 Krone specializes in building high-quality hay and forage equipment for North American farmer needs.
Krone, a global leader in the manufacturing and sales of hay and forage equipment, has been growing its business in North America for over 43 years, and now offering a full line of high-quality hay and forage equipment in over 400 dealership locations.

The award is based on feedback from EDA member dealers who evaluate their manufacturers in a variety of categories considered important by equipment dealers. Krone dealer feedback pointed out a broad range of improved year-over-year performance by Krone, including parts quality and availability, communications with management, marketing support, response to dealer needs and overall dealer satisfaction.

Krone North American offers a full line of quality hay and forage equipment in North America, including BiG X Self-Propelled Forage Harvesters, BiG M Self-Propelled Mower Conditioners, BiG Pack Large Square Balers, Comprima Round Balers, Disc Mowers, Mower Conditioners, KW Tedders and Swadro Rakes.

Tommy Jones, CEO of Krone North America, had this to say, "This tremendous recognition by our dealer network confirms our efforts to increase our support of our dealers in all key areas is working, and that our ongoing strategic goal to achieve constant improvement is being noticed and recognized by our growing dealer network. Every employee at Krone North America is committed to making sure this trend of improving our dealer satisfaction continues. That's critical because we realize our dealer network is the primary conduit to making sure the needs of our mutual customers are met, and whenever possible, exceeded."