This item has been supplied by a forage marketer and has not been edited, verified or endorsed by Hay & Forage Grower.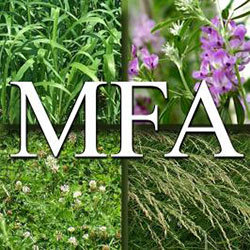 Increasing Profitability Without Increasing Herd Size, Alfalfa Fertilization: Benefits & Costs, Rethinking Use of Forages for Manure Management in Dairies, Nitrogen Management for First- & Second-Year Corn Following Alfalfa, and Timing & Management of Alfalfa Weevil with Limited Insecticide Options are just a few of the many presentations offered at Midwest Forage Association's (MFA) Tour de Forage January 24-26 across Minnesota. Dennis Hancock, Director of the U.S. Dairy Forage Research Center in Madison, WI, will serve as the keynote speaker and will discuss Managing Grass for Producing High Quality Forages and Cutting Costs, Not Corners: Managing Cattle in Tough Times at the Floodwood location, and Managing Alfalfa/Grass Mixtures for High Quality Forages at the Royalton and Rochester locations.
"The 2023 Tour de Forage features an impressive lineup of regional forage experts eager to share their knowledge and experience with Minnesota's forage and dairy farmers," said Beth Nelson, MFA President. "Our goal is to give forage farmers the tools they need to make the coming year more profitable."

Tour de Forage (TDF) dates and locations:
To take advantage of discounted pre-registration, which ends Jan. 17, visit midwestforage.org. On-site registration is available but costs more, so register today!
Midwest Forage Association is hosting this popular, annual series of meetings in collaboration with University of Minnesota Extension and northeast, central, and southeast local forage councils. Agendas vary by location so visit midwestforage.org for site-specific programs.

Don't miss this opportunity to learn more about forages, network with industry professionals, and have your forage-related questions answered. Lunch will be served for those attending thus, preregistration is appreciated. Proceedings are included with registration and include all TDF speakers.
To register, please visit www.midwestforage.org or contact MFA at 651.484.3888.