Harvest is underway in Southern California and other regions are near that point. Some reports have prices lower as hay producers try to clean out supplies before the new crop is ready to be made. Below are examples of alfalfa and grass prices being paid FOB barn/stack (except for those noted as delivered, which is indicated by a "d" in the table below) for selected states at the end of the day on Friday, March 11. Large ranges for a particular grade and state are often indicative of location and/or bale size. Also check the USDA Hay Market Prices for additional locations and more detailed information.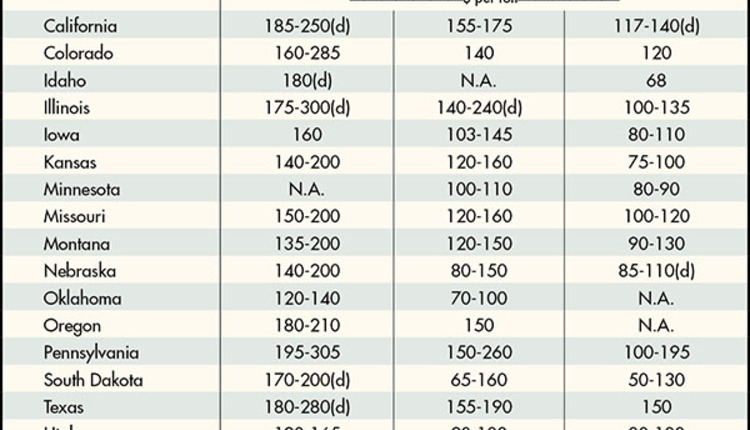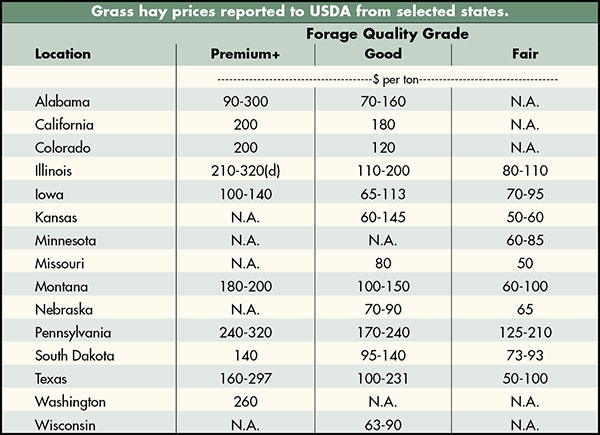 Hay Quality Designations physical descriptions:
Supreme: Very early maturity, pre-bloom, soft fine stemmed, extra leafy. Factors indicative of very high nutritive content. Hay is excellent color and free of damage.

Premium: Early maturity, i.e., pre-bloom in legumes and pre head in grass hays, extra leafy and fine stemmed-factors indicative of a high nutritive content. Hay is green and free of damage.

Good: Early to average maturity, i.e., early to mid-bloom in legumes and early head in grass hays, leafy, fine to medium stemmed, free of damage other than slight discoloration.

Fair: Late maturity, i.e., mid to late-bloom in legumes, head-in grass hays, moderate or below leaf content, and generally coarse stemmed. Hay may show light damage.

Utility: Hay in very late maturity, such as mature seed pods in legumes or mature head in grass hays, coarse stemmed. This category could include hay discounted due to excessive damage and heavy weed content or mold.
---