A look into the haymow
By Mike Rankin, Managing Editor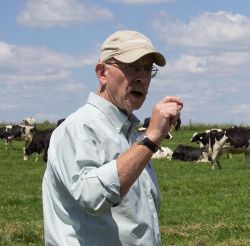 Sometimes hay gets cut later than we'd like; sometimes hay data gets reported later than we'd like. The latter occurred this year because of an extended wall discussion in our nation's capital. To be clear, it was the discussion that was extended, not the wall.

With government employees back to work, we at least now have our end-of-year hay data. So let's take a dive into the digits and see if we can't figure out what they might mean for 2019.

December 1 hay stocks: As we headed into the winter-feeding season, USDA reported U.S. dry hay stocks were down 6.4 percent from the previous year. The nation's hay supply of 79.1 million tons as of December 1 was only the second time since 2000 that stocks have plunged below 80 million tons. The first time was following the widespread drought in 2012. To put some context to the hay inventory situation, as recently as 2010 hay stocks exceeded 100 million tons.

Individual states varied in the total amount and direction of their hay inventory change. Of the major hay-producing states, the largest reductions occurred in Wisconsin (down 34 percent), Texas (down 29.7 percent), California (down 24.3 percent), Minnesota (down 21.2 percent), and Pennsylvania (down 21.2 percent).

States in the Northern Plains that were hit hard by drought in 2017 were successful in rebuilding hay stocks during 2018. North Dakota was up 23.1 percent, Montana gained 15.1 percent, and South Dakota had a 3.9 percent boost.

Hay acres and yield: Initial estimates from USDA tell us that farmers harvested 52.84 million acres of dry hay in 2018. That was just slightly higher than the 52.77 million acres harvested in 2017.

Drilling down to alfalfa (dry hay only), those acres declined from 17 million in 2017 to 16.6 million in 2018. States with the largest alfalfa acreage declines were Minnesota (down 150,000), Pennsylvania (down 130,000), Iowa (down 100,000), and New York (down 100,000).

Big gainers in alfalfa acreage were Montana (up 250,000), South Dakota (up 200,000), and North Dakota (up 90,000). All three states rebounded after losing significant acreage in 2017.

Although hay acres held firm in 2018, yields did not. The average U.S. dry hay yield (all types) dropped from 2.43 tons per acre in 2017 to 2.34 tons per acre in 2018. For alfalfa, the average yield declined from 3.28 tons per acre in 2017 to 3.17 tons per acre in 2018.

Hay production: The 2018 production of all dry-hay types totaled 123.6 million tons, down 3.6 percent from 2017. Total alfalfa dry-hay production declined by 5.7 percent to 52.6 million tons. In some states, alfalfa hay production was cut significantly in 2018 compared to 2017. Included in this group were Minnesota (down 863,000 tons) and Wisconsin (down 803,000 tons). South Dakota easily led all alfalfa production gainers in 2018 (up 1 million tons). Other states whose production was up significantly included North Dakota (up 636,000 tons) and Montana (up 430,000 tons).

Bottom line: December 1 hay stocks have fallen nearly 18 percent (17 million tons) since 2016. This greatly impacts our ability to buffer any weather-related production issues. If winter feeding is above average because of a late spring, expect to see some regional hay shortages. There is nothing to indicate that hay prices will decline in 2019; more likely, they will rise.
---
This article appeared in the March 2019 issue of Hay & Forage Grower on page 4.
Not a subscriber? Click to get the print magazine.