John Deere adds new models to Triple-Mounted Mo-Co lineup
The John Deere front and rear Mo-Co lineup includes five models with different configurations, depending on customer needs.
Larger mower-conditioners offer wider cutting widths and faster transport speeds
This item has been supplied by a forage marketer and has not been edited, verified or endorsed by Hay & Forage Grower.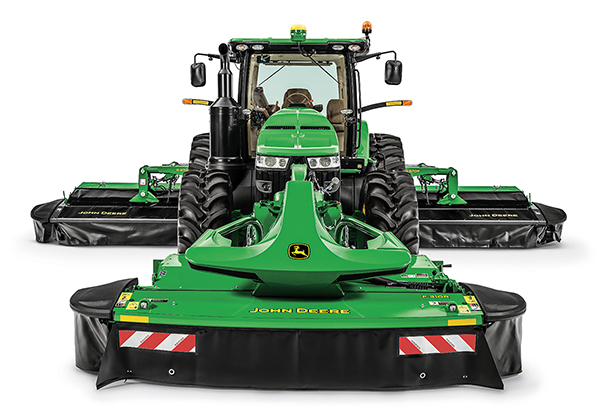 After the successful introduction of the company's first Triple-Mounted Mower-Conditioner in 2012, John Deere announces the addition of five new models that increase productivity of mowing and conditioning operations.



"Our newest updates to these combination front- and rear-mounted machines offer wider front cutting widths at 3.1 or 3.5 meters and three combined cutting widths up to 9.9 meters," says Glenn Padgett, senior marketing representative with John Deere Ottumwa Works. "These wider machines mean that dairy and beef cattle customers and large commercial hay producers can cut more acres per hour, increasing their productivity, especially during weather-sensitive field conditions."

With the addition of these models, the John Deere front and rear Mo-Co lineup now includes five models with different configurations, depending on customer needs: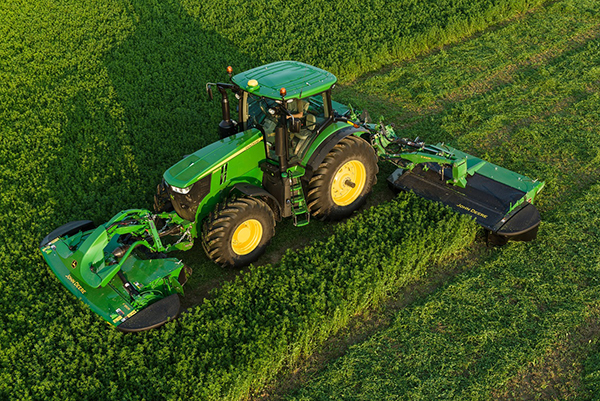 Two front machines, F310R and F350R, have respective cutting widths of 3.1 and 3.5 meters.


Either of the two fronts combined with two different configurations of rear machines (two 3.1 meters or two 3.5 meters) delivers three different configurations, R870R, R950R and R990R, with respective cutting widths of 8.7, 9.5 and 9.9 meters.

Productivity can be optimized further with AutoTrac™, the guidance system available on John Deere Tractors, which enables the new mower conditioners to cut and condition the crop at speeds up to 20 mph. Depending on tractor horsepower, transport speeds range up to 30 mph and transport widths can be configured to 3.5 meters or less. This helps operators reduce transport times and optimizes cutting and conditioning when working in each field.

"These units are designed to maximize performance with superior cutting and conditioning in all types of hay," adds Padgett. "In addition, producers can make precise ground pressure adjustments in seconds, thanks to a new ground pressure cylinder, which increases uptime in the field."

Maintenance time is reduced even further with a new front design that improves operator visibility when working.

For more information on the new Triple-Mounted Mower-Conditioners and other hay and forage products from John Deere, see your local John Deere dealer or visit www.JohnDeere.com/Ag.

Deere & Company (NYSE: DE) is a world leader in providing advanced products and services and is committed to the success of customers whose work is linked to the land - those who cultivate, harvest, transform, enrich and build upon the land to meet the world's dramatically increasing need for food, fuel, shelter and infrastructure. Since 1837, John Deere has delivered innovative products of superior quality built on a tradition of integrity. For more information, visit John Deere at its worldwide website at www.JohnDeere.com.