New Holland launches three new models of WORKMASTER™ Utility Tractor
New models include all-weather cab and two special low-profile versions designed specifically for poultry operations or other low-clearance needs
This item has been supplied by a forage marketer and has not been edited, verified or endorsed by Hay & Forage Grower.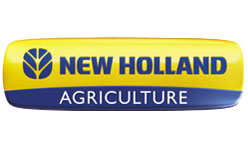 New Holland announced the launch of three new models of WORKMASTER™ Utility Tractors in conjunction with the National Farm Machinery Show and World Ag Expo. The new WORKMASTER models, available in 95, 105 and 120 horsepower, have been designed to meet a wide range of customer needs and provide unmatched comfort, simplicity and visibility with a low cost of ownership.

"The name says it all: WORKMASTER is a masterful tractor for getting the job done around the farm," said Todd DeBock, product marketing manager for New Holland, North America. "We carefully designed these new value models to provide ease of operation, greater visibility and, in the case of our Poultry House Special, exclusive features to meet the unique needs of chicken producers."

Best-in-class value cab provides operator comfort, 316-degree visibility and optional high-visibility roof panel

WORKMASTER cab models offer all-day comfort and outstanding visibility to get the job done. A long list of standard features includes the super-comfort, high-back, air-suspension seat with armrests; front and rear wiper and washers; heating and AC; tilt steering wheel; and deluxe radio with speakers.

'Poultry House Special' and low-profile models handle any low-clearance needs

The new WORKMASTER special low-profile ROPS (roll-over protection systems) model and Poultry House Special model enable easy navigation in low-clearance barns and outbuildings. Both models accommodate both low-profile and super-low tires to ensure optimum clearance and two-post foldable ROPS. Additionally, the Poultry House Special version comes equipped with an engine-reversing fan that blows feathers off the grill with the push of a button.

All-purpose, open-air ROPS platform provides broad capability and versatility

An economical choice for many farm chores, the new WORKMASTER models are ideal for haying, grounds and pasture maintenance, and loader work. The flat-deck ROPS platform features a large frame and long 83.7-inch wheelbase, and 12x12 power shuttle with column-mounted shuttle lever.

WORKMASTER 95, 105 and 120 tractors are powered by 207-cubic-inch (3.4L), 4-cylinder engines built by Fiat Powertrain Technologies (FPT). These engines are Tier 4B emission compliant, and deliver clean, fuel-efficient power.

WORKMASTER engines provide exceptional fuel economy and achieve maximum power at a mere 1,800 RPM that is available up to 2,300 RPM, which is typical for work applications. A flatter torque curve throughout the optimum range provides you with operational flexibility. For this size tractor, New Holland employs the ECOBlue™ Compact HI-eSCR system with light CEGR (Cooled Exhaust Gas Recirculation), all encapsulated under the hood to achieve Tier 4B compliancy and provide excellent visibility and clearance around the sides of the tractor.

For more information about the new WORKMASTER 95/105/120 models, visit the New Holland booths at World Ag Expo or National Farm Machinery Show, or visit www.newholland.com.

About New Holland

New Holland Agriculture and New Holland Construction sell and service an innovative line of agricultural and construction equipment, including a full line of tractors; hay and forage, harvesting, and crop production equipment; skid steer and compact track loaders; compact wheel loaders; tractor loader backhoes and mini excavators. Sales, parts and service are provided by more than 1,000 New Holland dealers throughout North America. More information on New Holland can be found at www.newholland.com.

New Holland is a brand of CNH Industrial N.V., a world leader in Capital Goods listed on the New York Stock Exchange (NYSE: CNHI) and on the Mercato Telematico Azionario of the Borsa Italiana (MI: CNHI). More information about CNH Industrial can be found online at www.cnhindustrial.com.