Dairy surprised with top forage entry
By Mike Rankin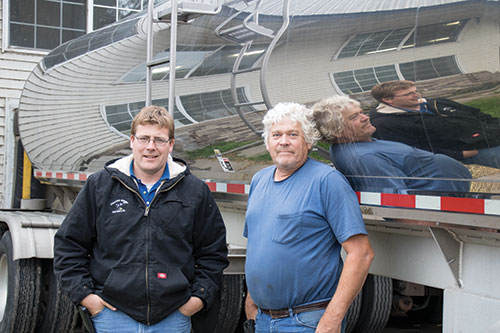 Jason Felling wasn't expecting the letter he received in the mail stating their farm, Felling Dairy LLC, was a finalist in World Forage Analysis Superbowl held at this year's World Dairy Expo in Madison, Wis. "It was just a random sample taken by our seed agronomist. Nothing special about it," says Felling.

As it turned out, the Sauk Centre, Minn., farm not only was a finalist, but also the brown mid-rib (BMR) corn silage sample was good enough to earn them Grand Champion Forage Producer in 2015. The winning entry topped 384 competitors and had a 30-hour neutral detergent fiber digestibility of 67.8 percent and milk per ton value of 3,731. Samples were judged based on 70 percent lab analysis and 30 percent visual analysis.

Felling Dairy is a third-generation family farm in Stearns County. These days, Jason and his wife, Marie, are in partnership with his parents and assume most of the management duties. His father (Cyril) and mother (Debbie) are still active on the farm and were the ones who journeyed to Madison to receive the forage award spoils. Twenty-five full- and part-time employees also work on the farm.

The dairy consumes all 1,600 crop acres for forage production, about 1,000 acres of corn silage and 600 acres of alfalfa. All other grain, straw and feed commodities are purchased for the 800 dairy cows that currently average 27,500 pounds of milk with a 3.9 percent fat test. Fellings also raise their own young stock. Cows are milked in a 28-stall carousel parlor that has served the farm since 2000.

Experienced with BMR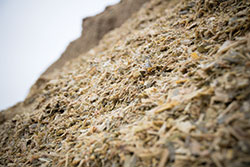 "It was seven years ago when we first tried Mycogen BMR corn on part of our acres," explains Jason. "The past six years we've been pretty much all-in. We plant both 99 and 109 relative maturity hybrids so it's all not ready to chop at the same time." Fellings do their own harvesting along with other fieldwork. The silage is stored in bunker silos.

Corn planting is accomplished with a 12-row, variable rate planter. They vary their planting rates between 28,000 to 32,000 seeds per acre. Fields are grid-sampled about every three years, usually before a field goes into alfalfa. Nutrients are applied based on soil tests and previous manure applications.

All haylage

The Fellings recently shifted to direct-seeding their alfalfa using Roundup Ready varieties. "Previously we used a companion crop like oats or barley," notes Jason, "but we really like the strait seedings. It's a nice way to start alfalfa." In 2015, they successfully established alfalfa using an airflow applicator, while at the same time applying pelleted lime and fertilizer. Fields were cultipacked before and after seeding.

Though most years they only manage two cuttings during the first year at about 60, then 45 days after seeding, three cuts were made in 2015 as a result of favorable weather conditions.

On established stands, the goal is to get four cuttings done by September 1. To do so, they try to adhere to a 28-day cutting interval. All of the alfalfa is harvested as haylage. Cows get no dry alfalfa hay but are fed either straw or dry grass hay to bolster effective fiber in the ration.

"Our biggest challenge with alfalfa is to get a good stand established and then control the insect pests like potato leafhoppers and alfalfa weevils," notes Jason. "We tried some foliar fungicide applications, but I'm not really sold on that practice." Generally, alfalfa fields receive topdress fertilizer applications that include both potassium and sulfur.

The typical crop rotation on the farm is four years of alfalfa (including the seeding year), then two to four years of corn before going back to alfalfa.

When asked what the keys are to producing high-quality forage, Jason replies, "First you need a good team that includes your agronomist, nutritionist and employees. Timing of field operations is critical. Finally, you need some luck. Mother Nature always seems to play a big role." Though that latter factor may be true, it's also clear that the Felling Dairy team parlays all that Mother Nature will give them to produce an abundance of high-quality forage.

This article appeared in the November 2015 issue of

Hay & Forage Grower

on page 6.

Not a subscriber? Click to get the print magazine.