As unprecedented pressures to reduce water use mount, many California Alfalfa growers are looking to subsurface drip irrigation (SDI) as a solution to produce high-yielding alfalfa in the face of limited water availability. Netafim USA, the leader in drip irrigation technology, has announced plans to conduct a series of Central Valley fielddays aimed at providing alfalfa growers with the knowledge they need to make an informed decision about the role of subsurface drip irrigation on their farm.
Slated for July 20th, 21st and August 3rd, Netafim's Alfalfa SDI Field Days will bring together growers, researchers, industry and product experts for a look at the latest advancements in subsurface drip irrigation. Presenters will address SDI concepts, components and management requirements, forage markettrends, agronomic and cultural management practices and rodent management, in addition to expected installation and maintenance costs of an SDI system.
"Alfalfa is grown on over a million acres in California, and is an essential component to sustaining the state's important dairy industry. As feed costs continue to rise, an increasing number of dairy farmers are looking to SDI technology as a way to hedge their costs and maximize profits by growing their own feed," said Ze'ev Barylka, Marketing Director for Netafim USA. "The field day events will provide answers to many of the pressing questions that growers have about using SDI systems to maintain productivity with limited water supplies."
All of the scheduled events are free to attend and a complimentary lunch will be served at each. All events are from 11:00 am to 1:30 pm.
·
July 20
- Maddox Dairy, 12840 W. Kamm Ave, Riverdale, CA
·
July 21
- West Star Dairy, 19012 Wildwood Road, Buttonwillow, CA
·
August 3
- Bert Wilgenburg Farms, 7877 E. Sandy Mush Road, Chowchilla, CA
Scheduled presenters include Dan Putnam, PhD., UC Davis agronomist and forage specialist, Jim Legari of Ag Water Chemicals, Seth Hoyt, western hay market specialist and publisher of the Hoyt Report in addition to Netafim experts and growers from Maddox Dairy, West Star Dairy and Bert Wilgenburg Farms.
(Event presenters subject to change)
All attendees are encouraged to RSVP via email at
maureen.nassie@netafim.com
, or by calling (559) 253-2548.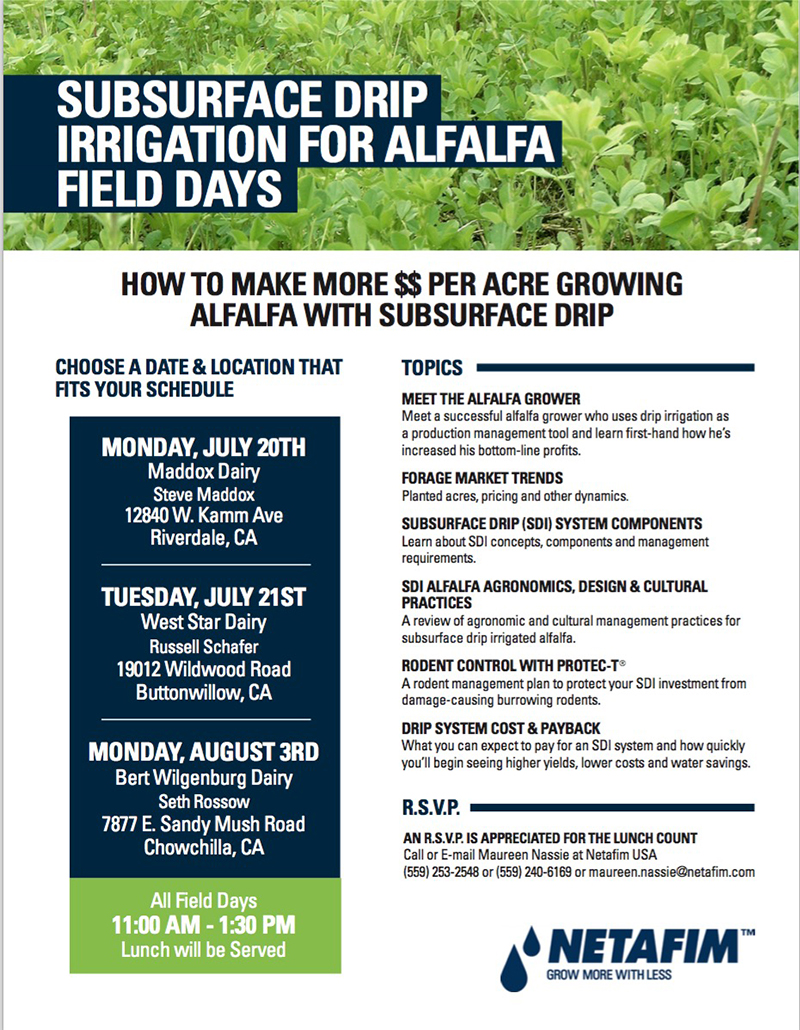 For more information on Netafim's industry leading drip irrigation solutions, please visit
www.netafimusa.com.
ABOUT NETAFIM USA

Netafim USA, based in Fresno, Calif., develops and manufactures drip irrigation systems for agriculture, landscape & turf, greenhouse & nursery, mining and wastewater. Netafim offers an extensive range of irrigation solutions including driplines, filters, sprinklers, valves, water meters and automation equipment for complete dripline system installations. For more information go to
www.netafimusa.com.