This item has been supplied by a forage marketer and has not been edited, verified or endorsed by Hay & Forage Grower.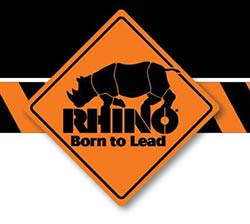 RhinoAG, Inc. will begin offering a new line of hay handling equipment, the company announced today.
"We're excited to offer this new line of hay handling products," said Greg Pollock, Director of Sales and Marketing for RhinoAG, Inc. "RhinoAG, Inc. has always had a commitment to making American ranchers' work easier, and these new products strengthen that commitment."
The new RhinoAG® products include the ACG10 Accumagrapple and MBS Mega Bale Splitter.
The RhinoAG ACG10 Accumagrapple is unique because it easily converts to a grapple for unloading in just a few minutes. It functions like a giant hand gathering, lifting, loading, and offloading hay bales using only one operator. The ACG10 Accumagrapple offers the flexibility of mounting on a tractor or skid loader.
The RhinoAG MBS Bale Splitter mounts on skid steer, tractor loader, or telehandler vehicles. It grips the bale's wrap or twine while splitting the bale in half for easy feeding in hay rings, alleys, and mixer wagons.
"Our new hay handler line gives our customers a deeper set of choices," said Warren Evans, RhinoAG, Inc. Product Marketing Manager. "The RhinoAG hay handlers save time and labor, making them a great complement to our terrific family of products."
Contact your RhinoAG, Inc. dealer today or call 800-221-2855 for more information on RhinoAG hay handling equipment. To find your local RhinoAG, Inc. dealer, visit www.rhinoag.com/find-a-dealer.
About RhinoAG, Inc.: Since patenting the first four-gearbox flex-wing rotary cutter in 1969, RhinoAG, Inc. has made rotary and flail mowers and cutters, rear blades, post hole diggers, pasture renovators, tillers, and box blades sold throughout the world. RhinoAG products are well respected for their dependability and performance