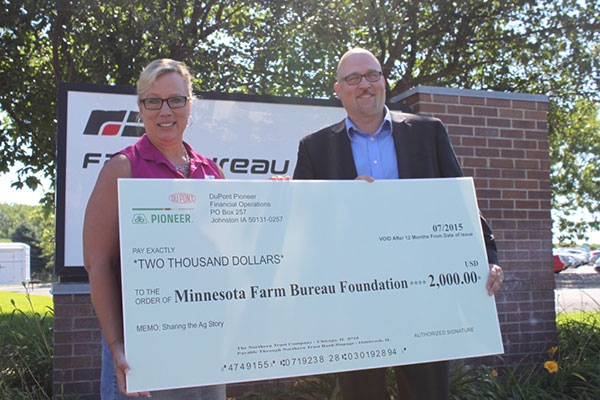 Minnesota Farm Bureau Foundation Director Ruth Meirick accepts a donation from Joe Martin of DuPont Pioneer.
The Minnesota Farm Bureau Foundation is pleased to announce that DuPont Pioneer donated $2,000 toward the Sharing the Ag Story effort, which will be focused on developing agricultural education resources for deaf and hearing impaired students.
"We commend the vision and work of the Minnesota Farm Bureau Foundation in their outreach efforts to offer unique learning experiences for nearly 70,000 deaf and hearing impaired students in Minnesota," said Patrick Yockey, DuPont Pioneer director – Northern Business Unit.
"We want to thank DuPont Pioneer for this grant. We are excited about developing and offering educational resource materials and working with sign language interpreters to engage this sometimes overlooked segment of students," said Ruth Meirick with the Minnesota Farm Bureau Foundation. "Our goal is to create an environment where students can learn about crops and animals in Minnesota, as well as learn about different types of farming practices and how healthy eating is important to all of us."
Pioneer makes contributions to community-based organizations on behalf of the business and employees. Consideration for outreach grants are given to communities where Pioneer representatives, employees and customers live and work and that support quality-of-life initiatives to create an improved, sustainable lifestyle for people worldwide.
DuPont Pioneer is the world's leading developer and supplier of advanced plant genetics, providing high-quality seeds to farmers in more than 90 countries. Pioneer provides agronomic support and services to help increase farmer productivity and profitability and strives to develop sustainable agricultural systems for people everywhere. Science with Service Delivering Success®.
DuPont (NYSE: DD) has been bringing world-class science and engineering to the global marketplace in the form of innovative products, materials, and services since 1802. The company believes that by collaborating with customers, governments, NGOs, and thought leaders, we can help find solutions to such global challenges as providing enough healthy food for people everywhere, decreasing dependence on fossil fuels, and protecting life and the environment. For additional information about DuPont and its commitment to inclusive innovation, please visit www.dupont.com.