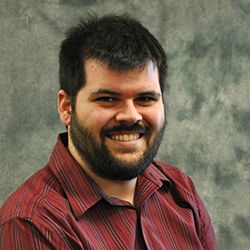 Rock River Laboratory, Inc. announces the hiring of Jacob Karlen as Near-Infrared (NIR) Manager. In this new position, Karlen will work to track, manage, and maintain Rock River Laboratory's extensive network of NIR instruments, both domestic and abroad.
"Jacob brings with him an extensive agriculture background combined with passion and experience in the field of biological sciences," says Zac Meyer, Rock River Laboratory director of operations."His understanding and enthusiasm for accuracy of instrumentation, science and the near infrared spectroscopy, which is a core proficiency for Rock River Laboratory, is a great benefit to our team - and a significant asset to our customers."
Growing up on his family's 80-cow dairy farm near Monticello, Wis., Karlen was an active member in his high school FFA. He went on to earn his Bachelor of Science degree in Biochemistry from the University of Wisconsin, Madison in 2008.
"We are continually working to improve accuracy and precision within our lab – and we truly feel that Jacob is a vital piece to this goal of accuracy through innovation, ending in positive results for our customers," explains John Goeser, Rock River Laboratory animal nutrition, research, and innovation and director.
During his college career, Karlen worked in various positions for the USDA-ARS-Dairy Forage Research Center (DFRC) as a biological science aid, and entertained an internship with Cargill Dry Corn Ingredients. Karlen returned to the Madison-based DFRC after graduation to expand his involvement with NIR operations and went on to work within the cooperative relationship between the NIRS Forage and Feed Testing Consortium (NIRSC) and DFRC. During his time at the DFRC, Karlen gained an affinity for and interest in NIR, data handling, and statistics. After much advancement within his field, Karlen eventually grew into a role as a lab technician and data manager. Currently, Karlen is working to earn a master's degree in Biological Systems engineering, focusing his master's research project on portable NIR instrumentation.

Rock River Laboratory provides production assistance to the agricultural industry through the use of advanced analytical systems, progressive techniques, and research-supported analyses. Employing a team of top specialists in their respective fields, Rock River Laboratory is built on providing accurate, cost-effective, and timely analytical results to customers, while featuring unsurpassed customer service.