This item has been supplied by a forage marketer and has not been edited, verified or endorsed by Hay & Forage Grower.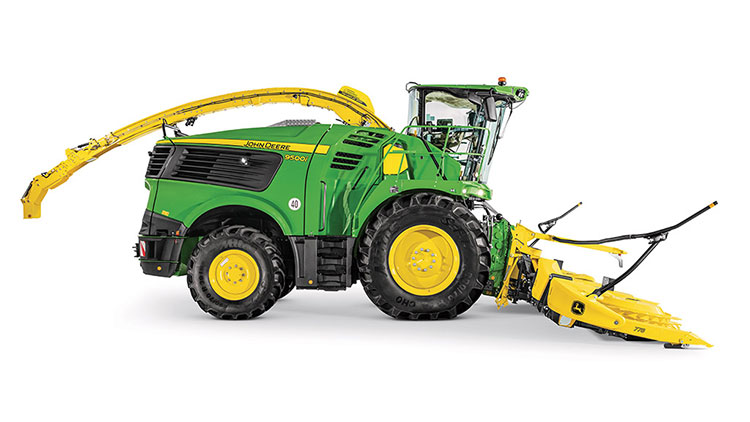 John Deere is building on the proven performance and technology of the 9000 Series Self-Propelled Forage Harvesters (SPFHs) introduced three years ago. For model year 2022, the company is adding a new 9500 model to its lineup; changing to new, more powerful 18.0L John Deere 18X engine for the 9500 and 9600 models; and making other changes to boost its 9000 Series SPFH lineup.

According to Chase Milem, John Deere marketing manager for forage harvesters, these updates to the 9000 Series portfolio give customers more choices in machines with the power, durability and technology features they want to harvest high-quality forage. "Customers want rugged, high-capacity forage harvesters that provide constant maximum throughput with fewer blockages and downtime for service and maintenance, along with ability to monitor, adjust and document processing of the forage for optimal feed value," Milem explains. "From top to bottom, 9000 Series Self-Propelled Forage Harvesters deliver on those needs with comfort and performance."
The new 9500 has a rated power of 690 horsepower and a HarvestMotion™ Plus rating of 755 horsepower, generated by the inline 6-cylinder 18.0L John Deere 18X engine that does not require DEF. "This is a state-of-the-art engine with our HarvestMotion Plus feature that synchronizes engine speed with crop flow and power needs to maintain consistent crop throughput at low RPMs and with less fuel consumption, and no DEF requirement," says Milem.

In addition, the 18.0L engine has a long 750-hour service interval and a 33% lower oil cost compared to the previous 13.5L engine and reduced total fluid consumption by 10% to 13%. All MY22 9600 forage harvesters will feature the 18.0L engines with HarvestMotion Plus, which will boost their horsepower and performance with rated power of 740 horsepower and a max power rating of 775 horsepower, significantly higher than the previous 9600 model. The 9600 in 2022 will be available on a limited basis with full production in 2023.
Also for MY22 9500 and 9600 models, customers will see changes to the spout that will improve crop flow and operator visibility while enhancing control during unloading. The redesign includes additional cleanouts, new hydraulic spout flap to give operators precise control during unloading, and four spout configuration options, including 8- and 10-row rigid, 12-row rigid and 12-row folding spouts.
"While we've added the new model, engine and spout design, what hasn't changed with the 9000 Series is their incredible harvesting performance," says Milem. "We've kept all the high-performance, field-proven components, like the DuraDrum™ cutting system, proven kernel processing options and HarvestLab™ 3000 constituent sensing and documentation, that customers count on to cut quality feed."

Front-end equipment and options also remain the same for the new 9500 and updated 9600. These include the 600 Series small drum headers, 700 Series big drum headers, and the industry-leading 6x9 Pick-up.
"From a technology standpoint, the 9000 Series is the most advanced SPFH John Deere has ever produced," Milem says. "Each model comes equipped from the factory with a 4G JDLink™ MTG (modem). Once activated, customers can stream their machine and crop data to their John Deere Operations Center account free of charge. This also lets owners monitor their equipment via the Operations Center mobile app in near real time from anywhere. With the customer's permission, their local John Deere dealer can provide remote support via John Deere Connected Support™. This provides customers with valuable machine health monitoring and fleet management tools."
When ordered guidance ready, AutoTrac™ RowSense™ can be field activated to keep the machine in the right row, regardless of conditions, and helps maximize time in the field by improving harvest efficiency and yield quality while reducing operator fatigue.

"Whether you are a beef or dairy producer, or a custom harvester, the expanded lineup of John Deere 9000 Series Self-Propelled Forage Harvesters are durable, high-tech machines that deliver more throughput, lower costs and better data management," Milem adds.
For more information on the new 9500 and updated 9600 Series Self-Propelled Forage Harvesters, visit JohnDeere.com or your local John Deere dealer.