Harvest Tec has introduced a moisture reading sensor system with precise accuracy for round balers.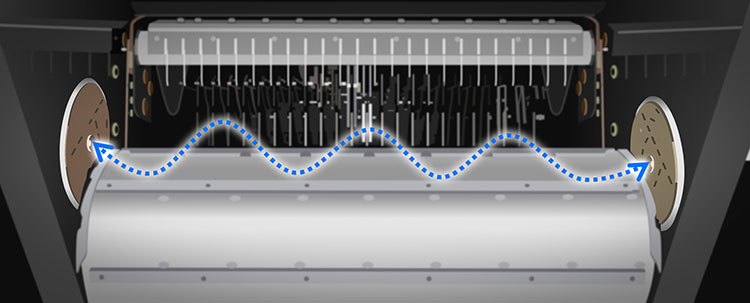 It features patented side-to-side sensing technology that reads crop moisture across the full width of the bale, from 6% to 60%, higher than any round baler sensor on the market. The system is efficient, cost-effective and ideal for the producer who wants to continually observe the moisture levels of the material being baled.
Bale marking added
Now, bale marking capability has been added to the system which was previously available only for large square and small square balers. The operator establishes a moisture threshold, and if the moisture in a bale exceeds that level, the bale is marked with a food grade dye as it exits the baler.
The operator instantly sees bale moisture readings on any smart phone or tablet device which connects wirelessly via Bluetooth®. Conveniently, the operator is still able to make and receive phone calls while the moisture sensor is at work.
Moisture is measured consistently across the full width of the bale by dual moisture sensing discs mounted on the chamber walls, making these readings significantly more accurate than hand probing or pad-style sensors. The dual opposing sensors collect five readings per second through the outer six inches of the round bale as it grows for the highest accuracy, a significant advantage of the patented design.
The H2O Precision Moisture Sensor is ideally designed for round baler operators who want to view crop moisture with simplicity and accuracy as it is being baled with a durable, reliable, lower cost sensing and monitoring system.
Harvest Tec's new H2O Precision Moisture Sensor and Bale Marker are available through your hay tools dealer. For more information, contact your dealer, visit
www.harvesttec.com
or call (800) 635-7468.