This item has been supplied by a forage marketer and has not been edited, verified or endorsed by Hay & Forage Grower.
New VSL 200 Series Vertical Mixers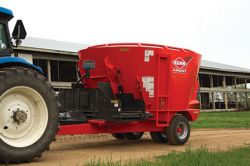 The new Kuhn Knight VSL 200 Series single-auger vertical mixers, available in 420 and 500 cubic foot capacities, are designed for dairy and beef producers. They provide the ideal combination of efficiency, versatility and rugged durability to give you maximum return for your equipment dollars.
The new VSL 200 Series mixers feature a low-profile design for quick and easy loading. Redesigned augers provide quicker mixing and processing with more complete cleanout. The rugged, dependable drive system helps ensure reliable service and long life. An optional 2-speed gearbox with an electric shift upgrade reduces necessary horsepower without losing machine performance. Multiple discharge options offer increased versatility and a variety of rugged conveyor choices are available to match most feeding situations.
New BTC 100 Series Botec 4-Auger Mixers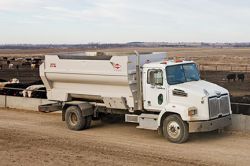 The new Kuhn Knight BTC 100 Series Botec® commercial 4-auger mixers, available in 550, 630, 720, and 900 cubic foot capacities, are ideal for large dairy and feedlot operations. They provide the ultimate ration flexibility to thoroughly mix a wide range of ingredients.
The unique Botec design eliminates dead spots for efficient material flow and fast mixing to save you time. A lower horsepower requirement, compared to competitive models, results in less fuel consumption. Redesigned discharge options provide fast, even feedout and enhanced reliability from the upgraded auger drive.
For complete machine specifications and additional details about these machines, visit www.KuhnNorthAmerica.com.

Kuhn North America, Inc., of Brodhead, Wisconsin, is a leading innovator in agricultural and industrial equipment, specializing in spreaders, mixers, hay tools and tillage tools. Kuhn, Kuhn Knight and Kuhn Krause products are sold by farm equipment dealers throughout the United States, Canada and many other countries.