This item has been supplied by a forage marketer and has not been edited, verified or endorsed by Hay & Forage Grower.
Opening up new silage is commonly associated with a dip in milk production, but the transition can be smoother — and less costly for producers — with a few easy fixes.
"In the fall, producers often tell us they see a drop in milk production," says Renato Schmidt, Ph.D., Technical Services – Forage, Lallemand Animal Nutrition. "This is usually due to an abrupt change from old corn silage to recently fermented corn silage. It takes a little planning to ease this transition, but it's worth it to maintain peak milk production."
Producers can make adjustments at harvest, during ensiling and after the new silage is opened.
During harvest, Dr. Schmidt recommends adding a proven silage inoculant containing enzymes, like
Biotal® Buchneri 500
. Inoculants with high activity enzymes can help break down plant fiber, which improves fiber digestibility. The product label should clearly indicate guaranteed levels validated by independent research studies.
Lactic acid bacteria (LAB) — like Lactobacillus buchneri NCIMB 40788 and Pediococcus pentosaceus 12455 — in silage inoculants also help initiate a fast, efficient fermentation immediately after ensiling, which works to help prevent milk production drops by maintaining feed quality.
After ensiling, Dr. Schmidt recommends waiting until the starch is more digestible to open. Ideally, producers should wait at least four months before feeding. This is particularly important for forage harvested above 35 percent dry matter (DM) and/or flint corn varieties.
When producers are ready to open the new silage, make the transition gradual and adjust the ration to balance changes in dry matter (DM) and nutrient content. Switch silages over a 10- to 14-day period. New silage can be introduced as 25 percent of the silage portion of the ration in the first three days, then 50 percent of the ration the next three days, and so on until the transition is complete.
"It's important to have the new silage analyzed during the transition," Dr. Schmidt recommends. "The analysis undertaken covers fermentation profile, NDF digestibility and starch digestibility, plus the associated rate values. Forage can range in composition among silage structures and between years. What you harvested last year can have a different nutrient value than the new forage. Part of the fall slump is cattle reacting to those changes in the feedstuff composition. Testing and adjusting the ration can help minimize fluctuations."
During the transition from old to new silage, herds are particularly vulnerable to Sub Acute Ruminal Acidosis (SARA) due to high levels of fermentable sugars in the silage. SARA is a sustained period of time with lowered pH levels in the rumen. When rumen pH dips below 6, cellulolytic bacterial activity is decreased and fiber digestion are impaired.1 As a result, milk production and feed efficiency can suffer.2,3
Supplementing feed with an active dry yeast (ADY) probiotic helps increase pH and improve fiber digestibility in the rumen. Results from multiple trials show cows fed a specific strain of ADY,
Saccharomycescerevisiae CNCM I-1077
, had an increase of 2.1 pounds of 3.5 percent fat-corrected milk (FCM) and were more efficient than controls.4
"When SARA occurs, it's difficult for cows to make the best use of any ration — no matter how expertly analyzed or carefully introduced," Dr. Schmidt says. "There's no substitute for making a smooth transition from old to new silage, but a proven probiotic can help optimize the rumen environment and maintain peak performance even during changes to the ration."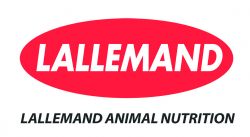 Lallemand Animal Nutrition is committed to optimizing animal performance and well-being with specific natural microbial product and service solutions. Using sound science, proven results and knowledge, Lallemand Animal Nutrition develops, produces and markets high value yeast and bacteria products ─ including probiotics, silage inoculants and yeast derivatives. Lallemand offers a higher level of expertise, leadership and industry commitment with long-term and profitable solutions to move our partners Forward. Lallemand Animal Nutrition is Specific for your success
. For more information, please visit www.lallemandanimalnutrition.com
.