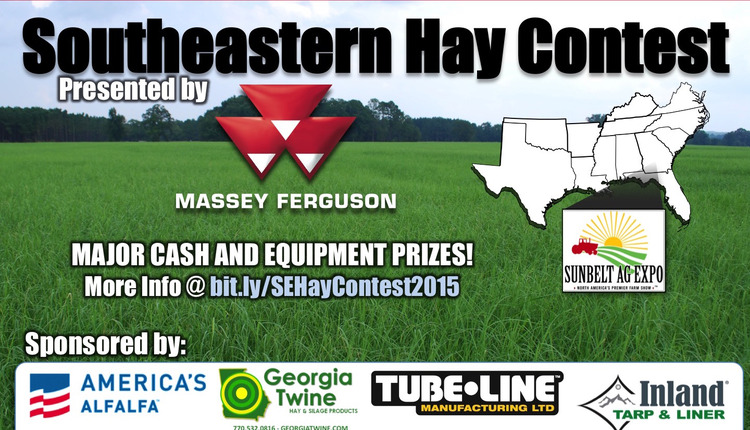 Major prizes await southeastern U.S. hay and baleage producers in this year's Southeastern Hay Contest at the Sunbelt Ag Expo, which will be held in Moultrie, Ga., from October 20 to 22. Massey Ferguson has enlisted as the contest's title sponsor and will provide use of a new RK series rotary rake for the 2016 hay production season along with $1,000 in cash for the grand prize winner. The company also will provide the use of a new DK professional series disc mower in 2016 to the top entry winner in the warm season perennial grass category.
Since 2004, the Southeastern Hay Contest has promoted the concept of producing high-quality hay. The cooperative extension programs in Alabama, Florida, Georgia and South Carolina have organized the contest since its inception. Dennis Hancock, extension forage specialist from the University of Georgia, is this year's director of the event that offers producers from 13 Southeastern states (Texas to Virginia) the opportunity to enter samples from the best of their best hay and/or baleage inventory.
Hancock notes that the event will be used to identify and emphasize those management practices that are being used by Southeastern producers to produce high-quality hay and baleage.
The contest will offer seven categories for entries: warm season perennial grass hay; alfalfa hay; perennial peanut hay; cool season perennial grass hay (for example, tall fescue and orchardgrass); mixed, annual grass, or other hay (for example, clover/fescue, clover/ryegrass, millet, ryegrass and so forth); grass baleage; and legume baleage. Each category has been sponsored by an industry partner that will provide cash awards of $125 for first prize, $75 for second prize, and $50 for third prize.
Producers from all 13 Southeastern states are encouraged to check out the rules and begin filling out entry forms. The Southeastern Hay Contest deadline for entry is 5 p.m. on September 28, 2015. For more information about the contest, including the rules and entry forms, visit the contest's website. Also follow the Southeastern Hay Contest on Twitter (@SEHayContest) and Facebook for periodic articles, updates, and timely information on producing high-quality hay and baleage.