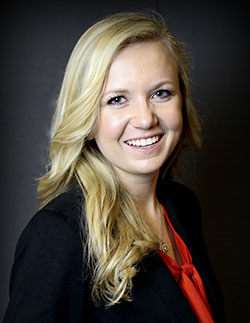 Hay & Forage Grower
is pleased to announce that South Dakota native Sydney Sleep will serve as its summer student intern. Sleep, who will enter her junior year at South Dakota State University in the fall, was raised on her family's 600-head cow-calf ranch near Spearfish, S.D., where she was actively involved with livestock care and hay production.
While at SDSU, Sleep is majoring in agricultural communications, education, and leadership. She serves as a communications assistant in the agricultural college where she has the opportunity to write stories and news releases that have helped to market and promote the college's events and people. She also functions as an ambassador for the College of Agriculture and Biological Sciences.
Working at Hay & Forage Grower, Sleep will provide content for eHay Weekly and write feature articles for the magazine. She will also be actively involved with posting content to the various social media platforms.
Last summer, Sleep worked as a student intern for The Cattle Business Weekly, based in Philip, S.D., where she wrote articles and press releases, helped to manage social media sites, and took photos to complement editorial content.
An avid livestock exhibitor, Sleep has shown horses, cattle, sheep, and swine at local, regional, and state shows. She also has served as the assistant superintendent for SDSU's Little International show.
Sleep holds memberships in the Alpha Zeta Honor Society and the Sigma Alpha Sorority, a professional agricultural sorority for women. She has participated in international work and mission experiences in both Belize and Mexico.
The American Agricultural Editors' Association is providing support for Sleep in this internship opportunity. She will begin her duties at Hay & Forage Grower on May 31.