This item has been supplied by a forage marketer and has not been edited, verified or endorsed by Hay & Forage Grower.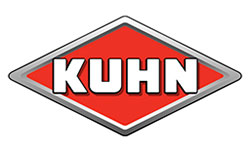 The new KUHN Knight HP 160 hydraulic push box spreader features the proven ProPush® design customers have come to love, in a higher capacity, commercial duty package. The HP 160 with VertiSpread® vertical beaters is designed to haul and spread solid materials from dairies and feedlots, including gutter manure, yard scrapings, bedding pack and feedlot manure. The hydraulic push-type design means no apron chains, fewer moving parts and dependable service life.
The HP 160 joins the 2044 and 2054 ProPush hydraulic push box spreader family, but features new upgrades and a greater heaped capacity of 600 cubic feet. The all-steel welded frame on the HP 160 provides a solid foundation for the spreader's sides and floor. The solid weld-in tongue is cross-braced for strength and rigidity, while the updated pusher design has increased the clearance between the tractor and implement for greater maneuverability. VertiSpread vertical beaters equipped on the KUHN Knight HP 160 provide customers with a uniform 25-30 foot spread pattern with excellent material breakup. Polylaminate floor and sides minimize friction and deliver exceptional machine cleanout. For precise monitoring and application tracking, an optional scale system is available.
Kuhn North America, Inc., of Brodhead, Wisconsin, is a leading innovator in agricultural and industrial equipment, specializing in spreaders, mixers, hay tools, and tillage tools. KUHN, KUHN Knight, and KUHN Krause products are sold by farm equipment dealers throughout the United States, Canada, and many other countries.