Rocky Lemus
Extension forage specialist
Mississippi State University
Hay production is at full force across the state. Most producers have already done two cuts of hay in the southern region and yields are stable ranging from 1.5 to 2 tons per acre per cut. Grazing conditions are good at the moment.
Although rainfall has been favorable is some parts of the state, the southwest region has been a little dry compared to the rest of the state. Temperatures have been in the mid-90s with humid conditions, delaying the drying time of hay and leaving a small window for harvest between rain showers.
Several cases of leaf spot disease have been reported in bahiagrass. The disease is caused by a fungus in the Bipolaris species and is favored by leaf wetness, warm day temperatures, and cooler, humid nights. Although the disease is also linked to pastures with low fertility (low pH, low potassium (K), or extremely high phosphorus (P) levels), it is recommended to get a soil sample to establish the nutrient status. I have observed major issues where high or frequent applications of poultry litter have occurred. The amount of poultry litter and frequency can also impact disease pressure due to the high P content and organic matter that can increase water holding capacity. Nitrogen applications when there is a high disease pressure may worsen the issue. It is recommended to not apply high nitrogen rates. No fungicides are labeled for use on pasture grasses. Removing the infected plant material by burning, grazing, or cutting for hay will reduce inoculate levels in the field.
Several cases of armyworms have also been reported in south Mississippi (Walthall and Stone Counties). Continuous scouting of bermudagrass and alfalfa fields is very important to reduce infestations and for timely application of insecticides.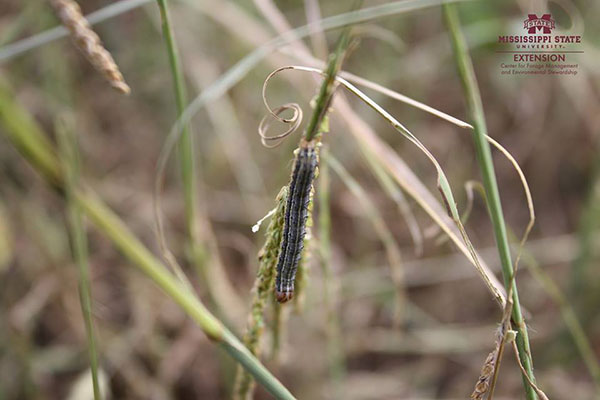 ---
Emily Glunk
Extension forage specialist
Montana State University
Haying has been underway in Montana, with almost two-thirds of the alfalfa and other hay already baled. The dry, warm weather throughout the state has created excellent conditions for haying. However, some areas had significant precipitation the last week in June, with storms moving through mainly in central and southwestern Montana. Some areas, namely central Montana, received over an inch of rain in a 24-hour period, with most other affected areas receiving closer to 1/2 inch in that same time period.
Parts of Montana, including the northwest and south central corners, are still listed as "moderate drought" or "abnormally dry," with the rest of the state in the normal precipitation range. Producers are hoping for more rain as many of the pastures and dryland hayfields are already starting to become dry.
Many are haying their cereal forages as well, with some areas having to harvest them early due to hail storms during the beginning of the month. The hay market has not seen much movement, with some of last year's hay still trying to be moved. Demand remains light, as many producers are still in the process of putting up the first cutting.
---

Sid Bosworth
Extension forage specialist
University of Vermont

Overall, June has been a dry month. It started off dry allowing for timely and excellent hay harvests. In the second week, we got a period of very cool, moist weather that helped with regrowth of fields that had been cut early. Some of the farms that harvested grass for haylage in May have already taken a second harvest by now. Alfalfa that was harvested by Memorial Day has recovered well and will be ready to harvest by next week. The last two weeks have been hot and dry and any fields cut after the first week of June have been slow to recover. Some recent rains should perk them up. Pasture growth has been slow due to dry soils.
New forage seedings have been challenged with the dry weather. Reports indicate that earlier seedings have done well, with some fields even harvested by now. But forage seedings made late have been slow to emerge and are now contending with weeds. Corn is looking pretty good to date; however, the dry conditions have resulted in variable emergence across fields and there have been some reports of poor weed control due to herbicide inactivity. With rainfall occurring across the region in the past couple days, I'm optimistic that we'll have good recovery.