This item has been supplied by a forage marketer and has not been edited, verified or endorsed by Hay & Forage Grower.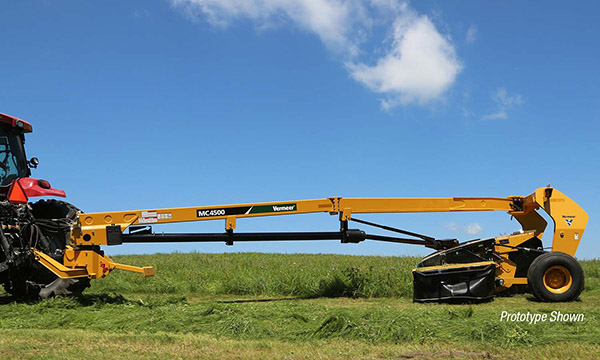 Vermeer Corporation continues to expand its mower conditioner line with the addition of the MC4500 mower conditioner. Designed with productivity, flexibility and convenience in mind, the MC4500 has a 15-foot (4.5-m) cutting width to meet the needs of large volume operators.
"Vermeer added a larger model to the mower conditioner line to help large volume operators cover more acres in a shorter amount of time" said Vermeer Product Manager, Josh Vrieze. "The MC4500 mower conditioner brings more size, speed, versatility and reliability to the operator in the field."
Efficiency features like a drawbar swivel hitch allow hooking up the implement to become a hassle-free, one man job. Similarly, the Quick-Clip® Blade Retention System makes replacing and reversing blades quick and convenient.
Q3® Cutter Bar technology helps maximize productivity by making the mower more fuel-efficient with minimal gear-to-gear interface, requiring less horsepower than gear-bed style cutter bars. The Quick-ChangeTM Shear Ring sits within the disc hub and shears when a potentially damaging object encounters the disc to protect the internal gears and drive spline. All combined, these Q3 Cutter Bar features make maintenance and repair user-friendly.
In addition to the unique cutter bar features, Vermeer mower conditioners are equipped with a nitrogen-charged accumulator suspension system to provide a consistent weight on the cutter bar throughout the full range of motion. Operators can easily customize suspension settings for their specific field conditions, resulting in less cutter bar weight on the ground and less stress on the header and framework compared to traditional mechanical spring systems.
With the option of either a steel roller or v-tine conditioner on all models of mower conditioners, the operator can choose the conditioning method preferred for their operation. In addition, multiple swath adjustments give users more control over their windrow formation. The Vermeer MC-series mower conditioners offers cutting widths of 9.1 feet (2.8 m) on the MC2800, 10.5 feet (3.3 m) on the MC3300, 12 feet (3.7 m) on the MC3700 and now 15 feet (4.5 m) on the MC4500.
ABOUT VERMEER

Vermeer Corporation delivers a real impact in a progressing world through the manufacture of high-quality agricultural, underground construction, surface mining, tree care and environmental equipment. With a reputation for durability and reliability, that equipment is backed by localized customer service and support provided by independent dealers around the world. To learn more about Vermeer Corporation, products, the dealer network and financing options, visit vermeer.com.