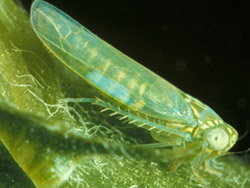 OSU Extension
With each storm front that races north into Ohio from the Gulf states unleashing torrents of wind and rain from now through the summer, the chance also increases for Buckeye state alfalfa growers to face their crop's biggest threat — potato leafhoppers.
These bright green wedge-shaped insects can cause hopper burn on leaves, which can result in stunted alfalfa plants and can cause a significant economic impact to alfalfa growers, said an entomologist with The Ohio State University's College of Food, Agricultural, and Environmental Sciences.
The damage could cause significant yield loss and impact the plants' nutritional value, said Andy Michel, an Ohio State University Extension pest expert.
As a result, growers need to start scouting and sampling now for the pest, said Michel, who also has an appointment with the Ohio Agricultural Research and Development Center. Growers who find large populations of the pest in their alfalfa crops may want to consider applying an insecticide to their fields, he said.
OSU Extension and OARDC are the statewide outreach and research arms, respectively, of the college.
"Potato leafhoppers are the No. 1 pest in Ohio in alfalfa," Michel said. "The problem is that this is an annual pest that growers typically don't know in advance when it will hit or how bad it will be because the populations are all dependent on the storm front.
"We haven't had reports from farmers as to whether potato leafhoppers are here yet, but with those storm fronts coming in from Gulf Coast states, and growers having already completed their first cutting of alafala, it's time to be on the lookout."
Potato leafhoppers are an annual pest problem in Ohio in the spring as the pest migrates north. The pest is typically high in population when alafala crops are on their second cutting, typically in late June, he said.
"Growers can begin scouting for the leafhopper once alfalfa regrowth reaches sufficient height for sweep-net sampling," Michel said, noting that a single sample is 10 sweeps of a sweep net.
When the average number of adults and nymphs in a sample is equal to or greater than the average height of the alfalfa stand, insecticide treatment can be used, he said.
In glandular-haired, leafhopper-resistant alfalfa, the economic threshold is three times the normal threshold, or three leafhoppers per inch of growth. In that case, the threshold would be 18 leafhoppers for 6-inch tall alfalfa, Michel said.
"However, if the resistant alfalfa is a new planting this spring, growers might want to use thresholds meant for regular alfalfa during the very first growth from seeding," he said. "After the first cutting, growers can then use three times the normal level threshold."