The authors are a graduate research assistant, agronomy professor, and extension equine specialist, respectively, at the University of Minnesota.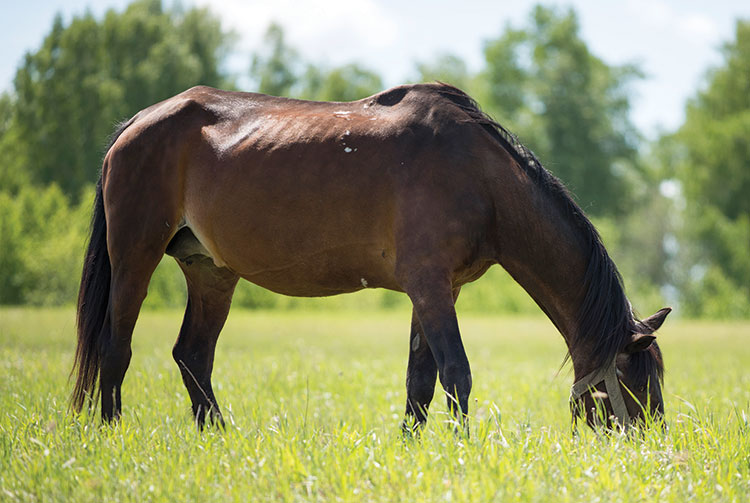 With one of the greatest expenditures of horse ownership being feed costs, horse owners often look for ways to reduce these costs. Pastures can provide a lower cost source of forage for horses compared to hay or other purchased feeds, and has the capability to meet or exceed the dietary requirements for many categories of horses. Therefore, maximizing pasture productivity can be a valuable tool for reducing feed costs.
In the Upper Midwest, cool-season perennial grasses are the foundation of productive horse pastures. However, there may be opportunities to utilize alternative forages such as annual cool-season grasses to extend the grazing season earlier in the spring or later in the fall. In addition to extending the grazing season, annuals can be used to provide forage in emergency grazing situations when perennial forages are lost following winterkill, floods, or drought.
We recently finished an evaluation of horse preference for annual cool-season grasses when grazed in the summer or fall seasons. The yield and forage nutritive value of the annual grasses was also documented.
The research was completed in the summer and fall of 2013 and 2014. Annual grasses seeded in the spring (late April to early May) and grazed during the summer included spring barley, spring oat, spring wheat, winter wheat, and annual ryegrass. Grasses seeded in the summer (early August) and grazed during the fall included the same five spring-planted species plus winter barley, winter rye, and a forage-type spring oat.
Prior to grazing, all grasses were evaluated for maturity and sampled to determine yield and forage nutritive value. Adult horses grazed all grasses for four hours, beginning in June for summer-grazed grasses and beginning in September for fall-grazed grasses.
Immediately after grazing, horse preference was determined by visually assessing the percentage of available forage removal on a scale of 0 (no grazing activity) to 100 (100 percent of the existing vegetation grazed). Grasses were mowed to an even height and allowed to regrow, and grazing was repeated once grasses regrew.
Distinct preferences
In general, horses preferred annual ryegrass, spring wheat, and winter wheat, which had removals ranging from 35 to 94 percent. Horses had a lesser preference for spring oat, spring forage oat, winter barley, and winter rye, which had removals ranging from 7 to 32 percent; horses generally exhibited the least preference for oats.
Yield differed among grass species. Among the summer-grazed grasses, yields were typically higher for annual ryegrass and spring oat (1.7 to 2.1 tons per acre) and lower for spring wheat, spring barley, and winter wheat (1.1 to 1.8 tons per acre). Among the fall-grazed grasses, yields were generally higher for spring forage oat, annual ryegrass, and winter barley (1.2 to 2.9 tons per acre) and lower for spring wheat, spring barley, and winter rye (0.9 to 1.9 tons per acre).
Additional consideration should also be given to regrowth potential, as a greater amount of regrowth following grazing will result in increased forage availability for future grazing events. In general, annual ryegrass and the winter species had the greatest regrowth potential, producing more even and consistent yields across subsequent grazing events. In contrast, spring barley, spring oat, and spring wheat produced a higher portion of their total season yield during the first grazing but had little to no regrowth available for subsequent
grazing events.
Forage nutritive values also differed among annual grass species. Forage nutritive values were affected primarily by plant maturity, with winter species remaining more vegetative and generally having greater forage nutritive values compared to spring species. However, all grasses contained at least 18 percent crude protein (CP), 58 percent or less neutral detergent fiber (NDF), 17 percent or less nonstructural carbohydrates (NSC), and at least 0.94 megacalories (Mcal) per pound of equine digestible energy (DE) and would meet the CP and DE requirement of many classes of adult horses.
When making forage pasture decisions, it is important to consider horse preference, yield, yield distribution, and forage nutritive values. Based on a combination of these factors, annual ryegrass appears to be a good option for horse owners looking to extend the grazing season or in need of emergency forage during both the summer and fall seasons.
---
This article appeared in the April/May 2017 issue of Hay & Forage Grower on pages 28 an 29.
Not a subscriber? Click to get the print magazine.