This item has been supplied by a forage marketer and has not been edited, verified or endorsed by Hay & Forage Grower.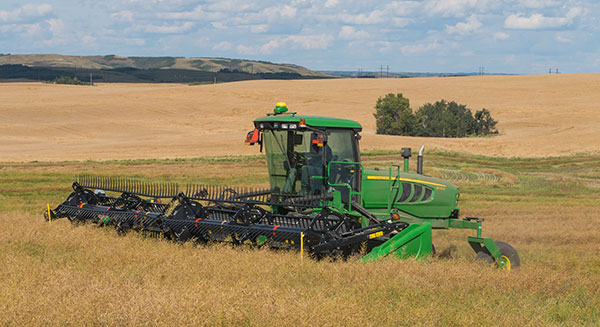 The John Deere 155 Self-Propelled Windrower offers fast cutting speeds and easy-to-maneuver controls for all types of conditions and field-terrain.
Building on the success of the W150 Self-Propelled Windrower released three years ago, John Deere announces its replacement with the new W155 Windrower for hay and forage producers. The self-propelled windrower offers fast cutting speeds and easy-to-maneuver controls, streamlining forage cutting and windrowing for all types of conditions and terrain.
"The W155 is designed to maximize cutting and windrowing performance in the field and enhance the operator experience under a wide variety of growing conditions while meeting government regulations," says Jeremy Unruh, product line marketing manager for John Deere. "We built on the success of the W150 to include new features like the Final Tier 4 PowerTech™ 4.5 Liter engine that generates 155 horsepower and provides the low-speed torque ideal for high altitude operation and fast acceleration without stalling."
The W155 Self-Propelled Windrower offers features to enhance operator comfort and convenience. These include a four-point independent spring and shock cab suspension design, a reversible operating station and a single-point multi-coupler with a hydraulic center link (controlled from the cab).
In addition, the W155 comes with the option of an AutoTrac™ Controller kit. When paired with AutoTrac™ Activation, GreenStar™ Display and the StarFire™ 3000 receiver, the controller kit can reduce header overlap by up to 90 percent, which allows operators to cover more acres in less time.
"Everything about the W155 Self-Propelled Windrower is designed to increase performance and uptime while cutting and curing grain and forage," adds Unruh. "With all the features that we've included, it's clear that the W155 adds another excellent model to the already successful hay and forage product lineup."
For more information on the new W155 Series Windrower, see your local John Deere dealer or visit www.JohnDeere.com/Ag.
Deere & Company (NYSE: DE) is a world leader in providing advanced products and services and is committed to the success of customers whose work is linked to the land - those who cultivate, harvest, transform, enrich and build upon the land to meet the world's dramatically increasing need for food, fuel, shelter and infrastructure. Since 1837, John Deere has delivered innovative products of superior quality built on a tradition of integrity. For more information, visit John Deere at its worldwide website at www.JohnDeere.com.