This item has been supplied by a forage marketer and has not been edited, verified or endorsed by Hay & Forage Grower.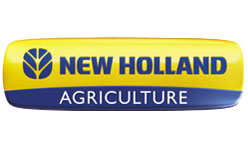 New Holland Agriculture announced today enhancements to its Precision Land Management (PLM) Connect Portal as well as the addition of six new API partners. These improvements and partnerships are designed to help customers get the most out of their agronomical data while remotely managing their fleets from any desktop, tablet or mobile device.
The new enhancements to MyPLM™ Connect includes the addition of three sections: Farm Management, Fleet Management and Data Management. Basic PLM Connect subscriptions include Fleet Management, while Professional subscriptions provide access to additional features in the Farm and Data Management sections.
"Managing all of the field data can seem overwhelming, but it is vital for our customers to effectively manage their businesses. MyPLM Connect saves valuable time and makes it much easier by offering robust farm management capabilities. This allows producers to gather and visualize field and application data to obtain better agronomic insights, and to easily share that data with their trusted advisors," said Luke Zerby, Precision Land Management Marketing Manager, New Holland Agriculture. "At its core, MyPLM Connect makes field data easier to interpret, and allows producers to make daily operational decisions at a quick glance."
Farm Management
This tool enables customers to remotely monitor their operations, obtain a bird's-eye view of their fields, view prescriptions and agronomic data, locate equipment and monitor individual machine performance. Satellite maps help visualize multiple layers of agronomic data, allowing producers to determine solutions to longstanding problems.
Field data also can be distributed according to specific producer needs. From a single location, farm managers can provide operators with necessary field information required to get equipment running at optimal performance. Field setup data, such as guidance lines, boundaries and prescriptions, can be shared with multiple pieces of equipment simultaneously for maximum time-saving and ease-of-use.
Fleet Management
The fleet management portal is optimized for ease-of-use with intuitive technology that allows for information transfer to off-site farm managers, owners and dealers. Equipment parameter notifications can be configured to track and receive mobile equipment data, informing producers about machine speed, fluid temperature and pressure. Should problems arise, farm managers can proactively plan and execute maintenance on connected vehicles.
New Holland MyPLM Connect fleet management technology delivers machine-tracking capabilities that producers need to make the most of their time, while enhancing performance for maximum productivity. The Fleet Management portal provides multiple vehicle management options to encourage optimal equipment performance. From field machines to road vehicles, operators can easily monitor everything on the dash in the cab, along with machine hours, service needs and more.
Data Management
With data management portals, users no longer need to use a USB drive to carry their data to a desktop computer or laptop. Instead, data is gathered in the cloud and displayed back immediately. In addition, producers can seamlessly transfer two-way data — down to the field level — to share insights in order to make informed operational decisions.
New API Partners
New Holland equipment owners and operators can connect their accounts with these agriculture-focused third-party companies to make use of their data or receive field information:
For more information about MyPLM Connect, contact your local New Holland dealer. For more information about New Holland Agriculture, visit: www.newholland.com/.
About New Holland
New Holland Agriculture and New Holland Construction sell and service an innovative line of agricultural and construction equipment, including a full line of tractors, hay and forage equipment, harvesting, crop production, skid steer and compact track loaders, compact wheel loaders, tractor loader backhoes and mini excavators. Sales, parts and service are provided by more than 1,000 New Holland dealers throughout North America. More information on New Holland can be found at www.newholland.com/.
New Holland is a brand of CNH Industrial N.V., a world leader in Capital Goods listed on the New York Stock Exchange (NYSE: CNHI) and on the Mercato Telematico Azionario of the Borsa Italiana (MI: CNHI). More information about CNH Industrial can be found online at www.cnhindustrial.com.
http://www.newholland.com/na http://www.youtube.com/NewHollandNA
https://www.facebook.com/newhollandna https://twitter.com/NHAgriculture