John Deere announces new precision ag products, including John Deere Harvest Mobile and John Deere Field Connect with a Gateway 3G upgrade and Wireless Radio Kit.
"These newest updates to our ISG products provide our customers with more functionality and service, resulting in higher levels of machine performance and decision-making in the field," says Diana Reed with John Deere Intelligent Solutions Group (ISG). "We introduced John Deere Harvest Mobile – a performance and information enhancing system – and improved serviceability to Field Connect with 3G modems and the Wireless Radio option."
John Deere Harvest Mobile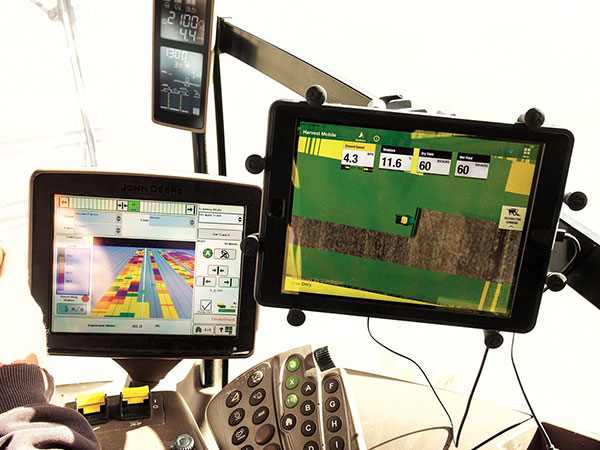 John Deere Harvest Mobile is an easy-to-use tool that optimizes machine functions to improve grain harvesting operations. It also features data collection and transfer to help operators make timely decisions with a simple, usable interface that makes harvest information easily available to operators and trusted advisors.
"Harvest Mobile integrates with a customer's equipment and technology, making the transition simple and easy," says Reed. "Plus, the Interactive Combine Adjustment (ICA) function displayed in Harvest Mobile optimizes combine performance by guiding users to make adjustments when necessary."
Aside from setting adjustments, ICA helps to improve grain quality, which reduces docking fees with the clean grain optimization function. It also helps operators capture more grain and reduce harvest losses. Harvest Mobile will be available to order on August 31.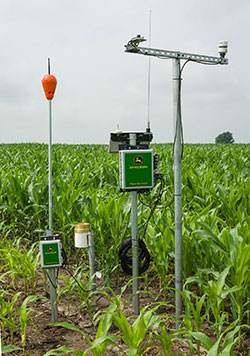 Field Connect Gateway 3G and Wireless Upgrades
The new Field Connect Gateway 3G and Field Connect Wireless Radio option allows users a wider range of serviceability when installed in the field for remote moisture and environmental sensing. All new units will be shipped with 3G modems in the Field Connect Gateway. Current Field Connect users looking to upgrade units from 2G to 3G can do so at a low cost and with a quick turnaround.
Upgraded 3G modems, available now for order, can reach more locations with faster connection speeds. In addition, the upgrade prepares field units for wireless connectivity, an optional feature that maximizes the use of Field Connect Gateway in remote locations.
"The Wireless Radio Kits allow producers to add up to eight radios to be used as field nodes for each gateway to provide more detailed field information," adds Reed. "Customers can use the kits to optimize the number of nodes within one mile of the gateway, and can connect up to eight nodes per gateway with 3G coverage."
The wireless option is compatible with existing Field Connect Gateway systems, soil moisture probes and environmental sensors, and will be available to order starting August 31.
For more information on these precision ag products and other innovations from John Deere, see your local John Deere dealer or visit www.JohnDeere.com/Ag.
Deere & Company (NYSE: DE) is a world leader in providing advanced products and services and is committed to the success of customers whose work is linked to the land - those who cultivate, harvest, transform, enrich and build upon the land to meet the world's dramatically increasing need for food, fuel, shelter and infrastructure. Since 1837, John Deere has delivered innovative products of superior quality built on a tradition of integrity. For more information, visit John Deere at its worldwide website at www.JohnDeere.com.