This item has been supplied by a forage marketer and has not been edited, verified or endorsed by Hay & Forage Grower.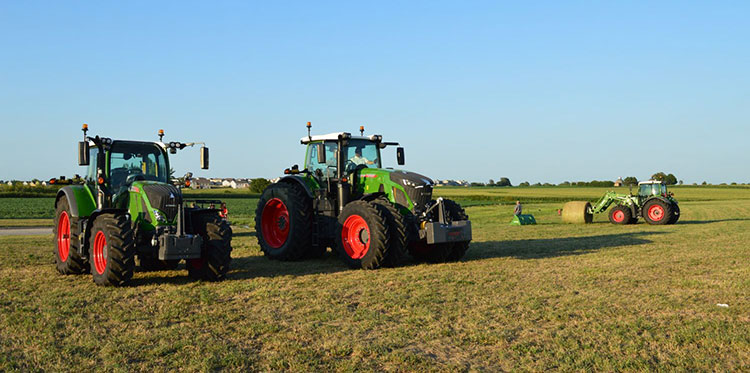 Farmers across the Southeast looking for an ag equipment experience of a lifetime will want to visit AGCO Corporation (NYSE: AGCO) at the Sunbelt Ag Expo, October 15-17 near Moultrie, Ga. From the newest Fendt® row crop tractors to an expansive lineup of Massey Ferguson® tractors and hay equipment, AGCO is bringing its latest and greatest to Georgia.
"We're ready for a busy three days at the Sunbelt Ag Expo," says Ash Alt, AGCO's Southeast field execution manager. "This year – for the first time – we're bringing our Fendt tractors to the Expo. This is part of our recently announced Fendt dealership expansion, which means Fendt tractors will be available at select dealerships throughout the Southeast. Also, at the show, we're introducing new Massey Ferguson 5700 Series utility tractors with the Dyna-4 transmission. They're just the right size and handy for haying and livestock chores."
Featured at the show
AGCO – exhibit D-4-143, D-5-245 – offers something for everyone from row crop and livestock producers to acreage owners and contractors.
Fendt 900 Series tractors
Fendt 900 Series tractors are designed specifically to meet the needs of row crop producers in North America and are available in models ranging from 296 to 415 HP.
These highly innovative, powerful tractors are engineered to operate at a maximum engine speed of 1700 rpm, for exceptional pulling power yet low fuel use. They generate maximum torque from 1150 to 1400 rpm. Comfort, ease of operation, time-efficient road speeds and Fendt Gold Star Customer Care ‒ a three-year, 3000-hour warranty plus all scheduled maintenance ‒ are just a few of the benefits Fendt tractors provide.
Fendt 700 Series tractors
Built with excellent transport and loader-tractor performance, the Fendt 700 Series tractors boast best-in-class operator control and maneuverability from exclusive Fendt features like return to position, an integrated scale on the Fendt Cargo Profi loader and the Fendt Vario CVT transmission.
Massey Ferguson 5700 Series with Dyna-4 transmission
New to the lineup, two 5700 Series tractors feature the Dyna-4 transmission for smooth, stepless shifting, popular with today's busy livestock and hay producers.
Both the MF5710D at 100 hp and the MF5711D at 110 hp are available with a rugged, reliable Dyna-4 transmission that shifts smoothly through 16 forward and 16 reverse clutchless speeds, making loader, hay and general on-the-farm work easy and efficient.
Massey Ferguson heavy-duty utility and mid-range tractors
For the ultimate chore and hayfield tractor, livestock producers will want to check out the Massey Ferguson 5713S and MF6713S with Dyna-4 transmissions, integrated joysticks, three-way loader controls and other get-the-job-done conveniences.
These tractors are built extra tough to handle big jobs and offer the highest overall weight, hydraulic capacity and lift capacity and the largest, quietest cabs in their class.
Fun and productivity come in small packages, too
Massey Ferguson's full line of tractors offers something for everyone, including handy, sub-compact and compact tractors for those small landscaping, mowing and maintenance jobs around the home and acreage.
Show visitors are invited to play in AGCO's Sand Box to experience just how Massey Ferguson tractors can make work fun. Take the wheel of a Massey Ferguson GC1700 Series sub-compact tractor or 1700 Series compact tractor and see how easy it is to get the job done with a front grapple, loader bucket or rear scraper. Keep your hand steady and your eye on the target at the Massey Ferguson Backhoe Challenge – take the controls of the handy backhoe on a new GC1700 tractor to put the bolt in the cone, and you might win a prize.
For more information on Sunbelt Ag Expo, click here. To learn more about the Fendt and Massey Ferguson products featured at Sunbelt Ag Expo, visit AGCOCorp.com or contact your local dealer.