After listening to the needs of North American farmers, Krone has developed its first round baler with belts engineered for North American fields. This new VariPack Round Baler is designed for hay growers looking for a high-quality round baler that can bale faster, while building dense, uniform bales. The baler will be on display at the Krone exhibit at the Sunbelt Ag Expo, October 15-17, in Moultrie, GA.
Stephen Turner of Webberville, TX, ran the new Krone VariPack Round Baler this past season. He says, "This new Krone baler far surpasses other balers I've run. Bale density … field speed, and the amount of crop it will handle … the fast gate cycle time is far superior … you'd be amazed how much time that saves over the course of a day."
The new VariPack Round Baler boasts a variety of exclusive and performance-enhancing features that can improve a farmer's return on investment.
Reliable EasyFlow Pick-up: Krone's exclusive EasyFlow camless pick-up is well-known for delivering maximum crop to the bale chamber and reliable bale starts. It has a durable and long-lasting pick-up, thanks to minimal moving parts. A pivoting, spring-loaded design follows any terrain, eliminating crop loss. A 7' pick-up width handles wide windrows. And the exclusive large auger creates more consistent crop flow from pick-up to feed roller.


Wide Feed Rotor and Drop Floor: The days of getting off your tractor to clear a plug are over. A wide feed rotor—which increases crop flow—and hydraulically-engaged drop floor come standard, enabling faster baling, while making quick work of the occasional plug.


Exclusive Bale Chamber Design: The VariPack Round Baler features four (4) endless belts with a smooth surface—an exclusive design that delivers uniform, high-density bales. Rollers are spaced close together for dependable power transfer to the belts, making for reliable bale starts and consistency as the chamber fills.


Quick-Close Rear Door: The new baler features another Krone exclusive benefit of a quick-close rear door that opens and closes in less than five (5) seconds, reducing time spent waiting for the bale to eject. This contributes to faster unloading and baling.


Flexible Density Settings: From the cab, the operator can select variable (3-stage) densities for the inner, middle and outer sections of each bale. This allows for selection of a softer core that can breathe, while maintaining denser middle and outer sections. Options include pressure ranges from 0 to 100%.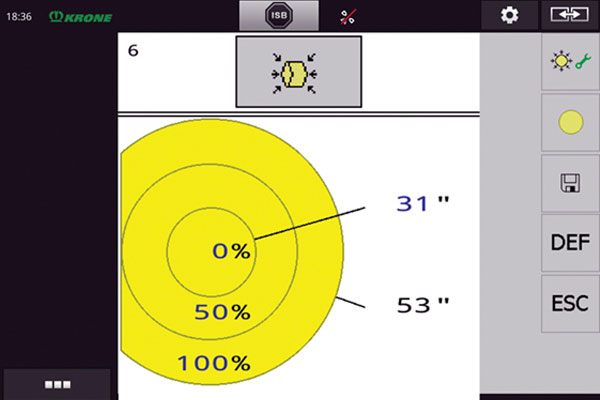 Simple, Reliable Net Wrapping System: The VariPack net wrapping system is reliable, simple and easy to operate. The net threads easily and consistently through the rigid net feeder and starts automatically when the chamber is filled. The operator can watch and monitor the process from the cab while on the move. There's plenty of space for spare net rolls to allow for continued baling on long days. Net wrap is available from 48" to 51".


High-Flotation Tires: Cover lots of ground in any terrain with long-lasting, high-flotation tires, designed specifically for North American field conditions. The operator enjoys smooth, high-performance baling in any terrain.


Simple, Intuitive Operator Terminals: This baler's electronic system makes for easier work and faster baling. The system is compatible with the IOSOBUS tractor terminal, and offers clear, user-friendly interfaces. Choose from two terminal options:
5.7" touchscreen, for use on the VariPack Round Baler, as well as some other Krone equipment.
8.0" touchscreen, for use with rear-view camera system (optional).


Fast, Easy Servicing: The clean, modern and uncluttered design provides easy and fast access to all service points. Automatic chain lubricator minimizes service time. Heavy-duty, sealed bearings are standard. Two front steps give convenient access to net unit. And, the bale chamber offers easy access.


Choose 4x5 or 4x6 Bale Models: Both models let you change bales diameters on the go.
Model 165: Bale diameter from 3' to 5'
Model 190: Bale diameter from 3' to 6'
​Important Note: The new Krone VariPack Round Baler will be available in limited quantities for the 2020 haying season, and primarily in the southeast region of the United States.