This item has been supplied by a forage marketer and has not been edited, verified or endorsed by Hay & Forage Grower.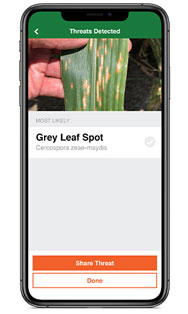 Today, Pioneer released a major update to its
Pioneer Seeds App
with a new tool: Threat ID. This technology delivers farmers access to cutting-edge pest, disease and deficiency identification technology for their crops in the palm of their hands.
Threat ID, powered by Plantix, allows farmers to detect issues impacting their fields by simply taking one crop photo. It then recognizes the specific patterns left behind by pests and provides an immediate identification of the most likely pest or disease threats and nutrient deficiencies. Threat ID boosts the efficiency of scouting and allows farmers to schedule follow-up consultations with their local Pioneer agronomist.
"Threat ID, as part of the Pioneer Seeds App, empowers growers to make more rapid and informed decisions regarding issues they see while walking their fields," said Jeremy Groeteke, U.S. Pioneer Digital Ag Lead. "With the ability to effectively identify crop issues, growers can more easily leverage the Pioneer agronomy team to its full capacity to get treatment recommendations that help maximize seed investment and protect yield potential."
Threat ID uses modeling technology that covers 30 crops, including corn, soybeans, wheat and sorghum. With an ever-growing catalog of 20 million photos spanning the entire life cycle of crops, Threat ID provides accurate results throughout the entire growing season. Farmers can get instant results by taking a photo using Threat ID while in the field or by uploading it later when an internet connection is available. With the threat identified, farmers can then access the extensive agronomic expertise of international crop scientists and local Pioneer agronomists for treatment recommendations.
"Adding Threat ID to the Pioneer Seeds App is a result of a strong collaboration between Corteva Agriscience and Plantix," Groeteke said. "We're excited to add this new tool to our already comprehensive package of digital solutions for farmers."
Threat ID joins the Pioneer Seeds App suite of digital agronomy tools, including:
Yield Estimator to capture yield estimates using a smartphone or tablet camera
Digital Tag to get detailed information about a seed bag's batch
Rate Estimator to determine optimum seeding rate for maximized performance
Vegetation Index to check on relative health of fields
The Pioneer Seeds App with the Threat ID update is available for download at no cost at the Apple App Store or on Google Play.
About Pioneer
Pioneer, the flagship seed brand of Corteva Agriscience, is the world's leading developer and supplier of advanced plant genetics, providing high-quality seeds to farmers in more than 90 countries. Pioneer provides agronomic support and services to help increase farmer productivity and profitability and strives to develop sustainable agricultural systems for people everywhere.
Join the discussion and follow Pioneer on Facebook, Twitter, Instagram and YouTube.
About Corteva Agriscience
Corteva Agriscience is a publicly traded, global pure-play agriculture company that provides farmers around the world with the most complete portfolio in the industry - including a balanced and diverse mix of seed, crop protection and digital solutions focused on maximizing productivity to enhance yield and profitability. With some of the most recognized brands in agriculture and an industry-leading product and technology pipeline well positioned to drive growth, the company is committed to working with stakeholders throughout the food system as it fulfills its promise to enrich the lives of those who produce and those who consume, ensuring progress for generations to come. Corteva Agriscience became an independent public company on June 1, 2019 and was previously the Agriculture Division of DowDuPont. More information can be found at www.corteva.com.
Follow Corteva Agriscience on Facebook, Instagram, LinkedIn, Twitter and YouTube.
About Plantix
Plantix helps millions of farmers secure their livelihood by reducing crop failure and increasing productivity. By applying advanced AI to agriculture, Plantix has brought the expertise of international crop scientists into the hands of small farmers in rural areas across the globe.
The farmer simply takes a photo of his diseased crop with the Plantix app and within seconds gets a disease diagnosis along with suggestions for remedial action. Now, Plantix is going one step further by advising the farmer on the exact product to purchase, where to buy it locally and how to apply it correctly.
Plantix's technology is years ahead of the industry as it is trained on more than 20 million images and it continues to improve continuously. Plantix is the only company in the world that knows the farmers' needs in real time, at scale, and with the ability to take fast and effective action. More information can be found at https://plantix.net/en/.
Follow Plantix on Facebook, Instagram, Twitter and YouTube.