This item has been supplied by a forage marketer and has not been edited, verified or endorsed by Hay & Forage Grower.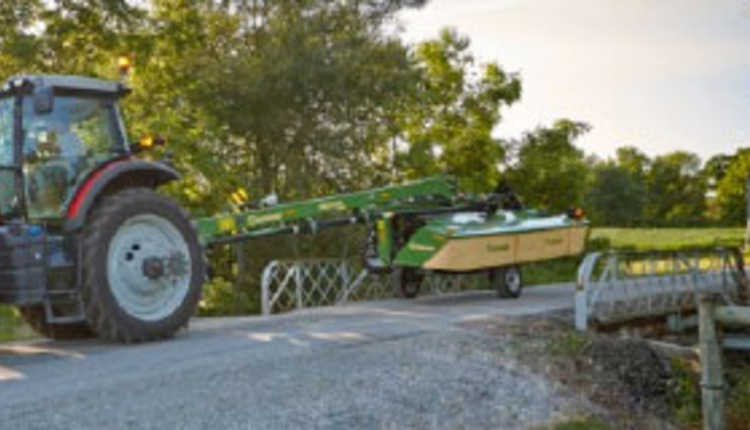 The EasyCut TC 400 and EasyCut TC 500 are the newest models to join Krone's lineup of mower conditioners. The EasyCut Trailed Center (TC) mower conditioner is the ideal mower for hay producers looking for a larger pull-type mower, but require narrow transport widths.
The optional endwise transport can change the machine from working position to 9' wide transport position in only 30 seconds. Using the in-cab control box, the mower swings 90 degrees from working position to transport, and an axle pivots under the mower to support it during road transportation. This makes it the ideal mower conditioner for fields with narrow gates or those traveling on narrow roads.
"The EasyCut TC mowers meet the unique needs of our customers," said Cliff Addison, Krone Product Development Manager. "With the optional endwise transport, you can take a 16-foot mower through a 10-foot gate or stay within your lane on the road, preventing operators from having to dodge obstacles such as cars or mailboxes."
The size of these mowers, coupled with the center pivoting capability, makes them even more efficient than a standard side-pull mower. The center pivot allows mowing up and down the field in either direction to minimize the number of turns in the field. The EasyCut TC mowers also come with the option of a 2-point hitch or drawbar hook-up.
The 10'9" wide conditioner on both models is the widest available on the market today. The width of the conditioner creates wide, consistent windrows resulting in faster dry down times.
Built with the producer in mind, the EasyCut TC is available with multiple conditioning options including no conditioner, steel chevron rollers, polyurethane intermeshing rollers or new style v-tines. Plus, the operator has the ability to remove the conditioner if no conditioning is needed.
The exclusive Krone low-profile cutterbar design allows for an even cut, and the SmartCut cutterbar provides for a clean cut and smooth crop flow, even in light crops. The SafeCut hubs protect the cutterbar when a disc comes into contact with a foreign object by shearing a roll pin within the sprocket, and the disc spinning up and out of the way of neighboring discs.
Visit EasyCutTC.krone-na.com to learn more about the new EasyCut TC models.
Krone does one thing exceptionally well, produce top-quality, innovative, performance-engineered hay and forage equipment. Krone is driven by the needs of the customers and guided by their input. Since Krone is first to market with the newest technology and efficiencies, Krone equipment is the first choice of professional hay and forage producers. German manufactured and globally distributed, the Krone North America headquarters is located in Memphis, Tenn.