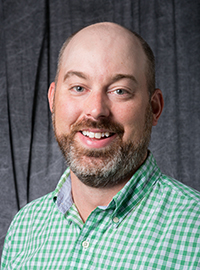 The Samuel Roberts Noble Foundation has selected Rob Cook as a new pasture and range consultant in the Agricultural Division.
As a pasture and range consultant, Cook will assist agricultural producers and land stewards in attaining their quality-of-life and stewardship goals by educating and advising them on the adoption of sustainable, research-proven practices.
"The Noble Foundation producer relations program offers unbiased information and unique resources to farmers, ranchers and landowners," Cook said. "I'm excited to continue to work directly with landowners to meet their long-term goals and advance agriculture."
Cook received his bachelor's degree in animal science and his master's degree in animal science with a concentration on plant and animal interactions, both from Angelo State University. He has worked as a Natural Resource Conservation Services rangeland specialist for 11 years.

"We are pleased to have Rob join the Noble Foundation team," said Hugh Aljoe, Noble Foundation producer relations manager. "His range and pasture management expertise provides us with a skill set that will have immediate benefit to the farmers and ranchers we serve."
Cook is from Vega, Texas. He and his wife, Landri, have one son.