The author served as the 2021 Hay and Forage Grower summer editorial intern. She currently attends Iowa State University where she is majoring in agricultural communications and agronomy.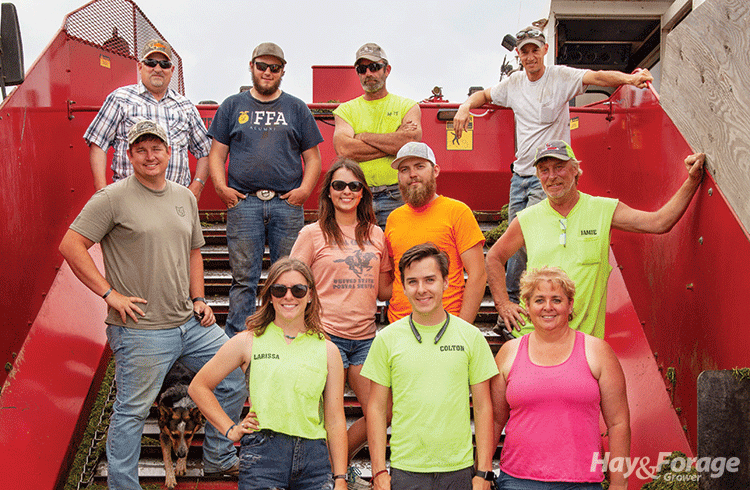 If you find yourself stuck in a pack of vehicles cruising down State Route 15 near Bryan, Ohio, odds are you've just entered Friedel Family Farms territory. On that road and others, you can expect to see crew members behind the wheel of a mower, chopper, or merger. Each of the Friedels were assigned to one of these pieces of equipment on the day of my visit, scattered in alfalfa fields and working in perfect harmony with one another.
Literally and figuratively speaking, the Friedel's hay production is family-driven. Jamie Friedel, his wife, Angela, and their three adult children, Ashley, Larissa, and Colton, farm approximately 2,300 acres of alfalfa with the help of several additional employees, including Ashley's husband, Jon Comment. Five other full-time workers and eight additional seasonal helpers aren't related by blood, but the Friedels treat them as if they were. The group demonstrates an easygoing nature, yet work together as efficiently as one of their well-maintained haymaking machines.
Seed-to-feed
The Friedels were grain farmers for many generations but transitioned to producing hay in 1988 when Jamie was a young man. Initially, Jamie found himself making small square bales for horse owners. However, as more and more dairies established in the area, he began producing, storing, and delivering hay to local dairy producers.
"Quite a few dairies were being built around here 20 years ago," Jamie said. "They started asking for big square bales, so we started doing that, but eventually we began chopping it because it's a lot easier and more reliable than doing dry hay."
Jamie's youngest daughter, Larissa, works long days alongside her father and is fully engaged in the farming operation. After graduating high school in 2017, Larissa began farming full-time and knows the family business like the back of her hand. She explained the daily routine of delivering hay to the surrounding dairies, which the Friedels consistently supply.
"We will have two to three loads per day to deliver, hauling to different places," Larissa said. "We don't ever let a dairy run out, so we keep them on a 36- to 48-hour schedule. Their nutritionists are always redoing the ration, so sometimes they need more and sometimes they need less."
On the Friedels' farm — beyond their house, backyard, and machine shed — are rows of white silage bags chocked full of haylage and corn silage lined up on an extensive 400 feet by 520 feet gravel-based pad. The pad has room for 26 of the 14-foot silage bags. Every few feet, the outside of the bags are spray painted with the date and field location. Jamie uses this filing system to pull forage samples so he knows the quality of the hay and can sell it accordingly.

The Friedels predominately grow alfalfa, but they also have nearly 500 acres of row crops. Jamie has recently been trying to incorporate other grass species, such as meadow fescue, perennial ryegrass, and Italian ryegrass, into the alfalfa. He hopes this will improve fiber digestibility. None of the Friedels' crops contain transgenic traits because one of their dairy customers ships to a non-GMO (genetically modified organism) processor.
Jamie prefers to direct seed in the spring, seeding a robust 25 pounds of alfalfa per acre. First cut usually takes place in mid- to late May, and subsequent cuts take place every 28 days. The Friedels operate a Claas triple mower, two Claas 980 choppers, and an Oxbo 40-foot merger. If Mother Nature cooperates, they can cut hay five times before the end of their season.
To combat the consequences of dry conditions, approximately 800 acres of the Friedels' land is irrigated. The center pivots can be controlled with the click of a button or by using a cellphone touchscreen. The latter function comes in handy when chopping is underway, and pivots need to be moved to accommodate field activities.
Hay day
A typical day for the Friedels during hay season starts early in the morning, but they must wait for their fields to rid themselves of morning dew. Although patience is a virtue, you won't catch anybody standing around. The Friedels take advantage of this time to keep up with machinery maintenance and make morning haylage deliveries to dairies.

"The mornings usually start a little slow because we have to check everything out," Larissa said. "It's easier to get up early and go haul a load. Then usually we get in the field, and we are ready to roll."
One afternoon in late May, all hands were on deck to complete the first cut of the year. Larissa and her loyal canine companion, Rosie, breezed through acres of alfalfa in the triple mower. Her older sister, Ashley, showed up eager to help despite already clocking in a full shift as a mail carrier that morning.
Just across the highway, another one of the Friedel's fields was striped with swaths of hay cut the day before. Other members of the crew revved their engines to engage in the next steps of production. Jamie's 20-year-old son, Colton, manned the merger, combining three swaths of cut hay into one.
Behind Colton was Matt Mulligan, one of the Friedel's full-time employees, who sat in the chopper's seat. He has been working for Jamie for many years — so long that Ashley and Larissa say they don't have a memory without him being around.
"Matt has been a good friend and neighbor since he was little," Jamie said. "We have always thought of him as family and our kids used to think he was their uncle for the longest time. He's a really good mechanic and chopper operator, and we would have never grown to where we are today without him."
Alongside the chopper, trucks took turns being filled with chopped hay. Jamie's wife, Angela, was at home waiting for the trucks to arrive. She sat atop the Versa 1014 silage bagger ready to add more haylage to the farm's inventory.
A side of tater tots
The Friedel's alfalfa doesn't go exclusively to their dairy customers. At the peak of their property sits a newly built freestall barn, and another lies just downhill. The two barns house roughly 900 dairy heifers that the family custom raises for one of their dairy customers.
At about 700 pounds, the cattle are shipped from the dairy to the Friedels' farm. The family is responsible for feeding and breeding the heifers and returning them to their original location after they are seven months pregnant. Jamie said they are bred using Angus bulls.
The cattle stay comfortable in the clean, well-ventilated barns. When it's time to eat, they stick their heads into the aisle to feast, but there is more on the menu than just hay, corn silage, and feed refusals from one of the dairy farms: dinner is served with a side of potatoes. Peelings, chips, and whole spuds are delivered to the Friedels from a potato chip factory and used as a part of the heifer ration.
"At first I didn't want to do it because they looked rough and smelled kind of tough," Jamie said. "But the cattle love it, and they will fight over the potatoes. I am really impressed with it — and it adds starch to the ration, which saves on corn silage."

Like father, like daughter
Larissa can be found in the field from sunup to sundown, and her work ethic shines through the windows of the tractor cab. Most of the responsibilities of heifer raising fall on her as well, and she is knowledgeable about and attentive to the customer's cattle. She enjoys both aspects of farming and hopes to remain a leader of the Friedels' operation for the foreseeable future.
In addition to her help on the farm, Larissa recently began selling seed. Through this enterprise, she is making connections and developing new ideas. Similar to her father, Larissa is interested in testing different crop mixtures for feed rations. Making sales and venturing to other farms inspires her to consider new possibilities for her own family's operation.
"There are a lot of people I sell seed to who are rotationally grazing and use different species, so it's neat to see the ideas they come up with and watch if their cattle like it or not," Larissa said. "I kind of let them be the guinea pigs, and then if I like their idea, I want to try it, too."
The Friedel's reliable reputation for feed production, storage, and heifer raising can be attributed to their dedication to work, but equally important has been their dedication to each other. Both attributes help paint a bright future picture for the operation, even if traffic occasionally gets slowed on State Route 15. •
---
This article appeared in the November 2021 issue of Hay & Forage Grower on pages 6,7, and 8.
Not a subscriber? Click to get the print magazine.