This item has been supplied by a forage marketer and has not been edited, verified or endorsed by Hay & Forage Grower.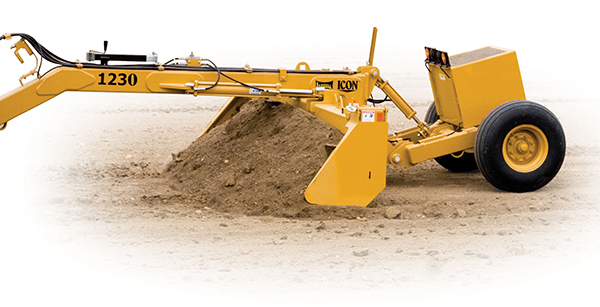 With the promise of spring just a few months away, farmers and ranchers are thinking about cleaning out cattle pens, rebuilding terraces and other conservation work. Fortunately, Landoll offers a pair of grader/box scrapers built specifically for the agricultural sector. Moreover, the ICON Models 1230 and 1632 aren't just built for spring and summer projects, but are designed and built for year-around use.
"Standard-equipment fold-down box ends on both models essentially give the customer two machines for the price of one," says Jamie Meier, Ag Division Sales Manager for Landoll Corporation. "As a grader or a box scraper, the 1230 and 1632 can be used for every job on the farm — including building ponds, cleaning ditches, grading roads, moving snow, digging irrigation ditches, leveling fields and clearing brush.
"In addition to offering two different sizes of units, ICON also offers a rear steer option on the 1632, marketed as the 1632RS," he adds. "A special pivoting rear frame pivots with the aid of a hydraulic cylinder, allows the unit to steer up to five feet to the left or right of center, providing an additional 18 degrees of angle for greater blade reach and increased versatility."
While the 1230 features a 12' X 30" blade with a standard 6" cutting edge, the 1632/1632RS have a 16' X 32" blade with a standard 6" cutting edge. All three models include a weight box over the axle that holds approximately one-half yard of concrete, or about 1,500 pounds, for stability against side draft. A hydraulic cushion valve also provides blade breakaway for built-in protection upon solid impact.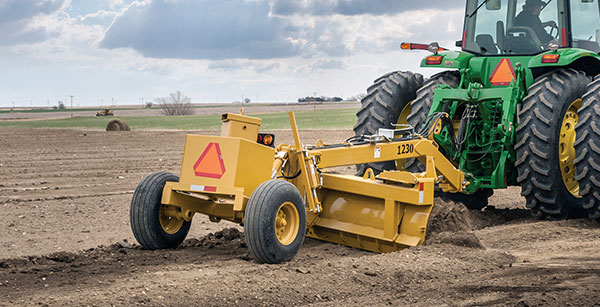 "Three-way blade operation provides raise/lower, side-to-side tilt up to 15 degrees, and up to 45 degrees of rotation — more than any other grader on the market — for the optimum cutting position, no matter what the job," Meier adds. "In addition, the unique design and rugged lift cylinders provide plenty of ground clearance when it's needed — up to 18 inches on the 1230 and up to 30 inches on the 1632/1632RS.
"Equally unique, the transport width on all models is 9'-6". "Consequently, they not only move material quickly and easily, but they can be quickly and safely moved between locations, as well."
For more information on the ICON 1230, 1632 or 1632RS grader/box scraper or other ICON products, call 785-738-6613 or visit www.landoll.com/icon