This item has been supplied by a forage marketer and has not been edited, verified or endorsed by Hay & Forage Grower.
KUHN, celebrating the 50
th
anniversary of pioneering the disc mower, is announcing the start of its promotional KUHN Model GMD 280 Golden Giveaway, or just "Golden Giveaway"! The company will be awarding two contest winners each a new KUHN GMD 280, its most popular disc mower model, or $10,000 toward a higher-priced GMD disc mower or FC mower conditioner.
One winner will be selected on or around April 7, 2017, from entries received between January 2, 2017, and March 31, 2017, and one winner will be selected on or around November 6, 2017, from entries received between April 1, 2017, and October 31, 2017.
To enter into the contest, individuals will need to fill out a contest entry form at any select trade show or event. To be eligible to win, participants need to be residents of the United States, excluding those residing in the states of New York or Florida, be 21 years of age at the time of entry, and not be an employee of Kuhn North America, Inc., an immediate family member of an employee, or living in the same household as such individual. The full contest rules, as well as a list of selected shows can be found at: www.KuhnNorthAmerica.com/us/news-golden-giveaway.html
Colin Skoronski, Director of Marketing for Kuhn North America said, "We are thrilled to offer this Golden Giveaway promotion in 2017 as a way to honor 50 years of KUHN's innovation and perfection of the disc mower and rotary disc technology!" Hay tools in general are a large part of the company's rich history in agricultural equipment, but a real revolution was made in 1967, when KUHN's rotary blades made it possible to move forward in the fields much faster than with a sickle bar mower.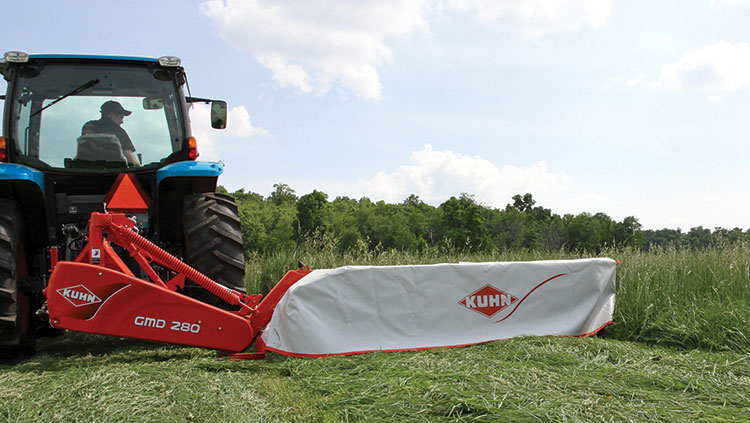 Kuhn North America, Inc., headquartered in Brodhead, Wisconsin, is a leading innovator in agricultural and industrial equipment, specializing in spreaders, mixers, hay tools and tillage tools. KUHN, KUHN Knight and KUHN Krause products are sold by farm equipment dealers throughout the United States, Canada and many other countries.