This item has been supplied by a forage marketer and has not been edited, verified or endorsed by Hay & Forage Grower.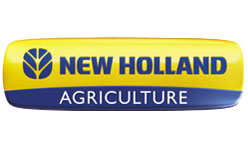 EquipmentWatch, the leader in data, software and insights for the heavy equipment industry, awards New Holland Agriculture the 2017 EquipmentWatch Highest Retained Value Award for its Roll-Belt™ round balers. Winners of each category were selected based off projection to retain the highest percentage of its original value after five years.
"We are honored to be recognized by EquipmentWatch for our Roll-Belt™ round balers highest retained value in the baler category," said Bret Lieberman, Vice President of New Holland North America. "The award is a true testament to our quality, excellence and market leadership in the Hay & Forage industry."
In addition to holding their value, New Holland Roll-Belt™ round balers also create some of the densest bales in the industry. Packing more crop into each bale translates to lower overall bale counts, and fewer bales allow operators save time and money in the field. Fewer bales means lower wrapping, retrieval, fuel, and freight costs, pushing more money to operators' bottom lines.
In addition to receiving the highest recognition in the Baler category, New Holland received several nominations in both the agriculture and construction categories, including:
·
Combines: New Holland CR Series combines

·
Sprayers: New Holland SP Series

·
Large wheel tractors: New Holland T8 Series

·
Backhoes: New Holland B95

·
Compact Track Loaders: New Holland C238

·
Large Skid Steer Loaders: New Holland L220

New Holland will formally accept the 2017 EquipmentWatch Award for the Roll-Belt™ round balers at ConExpo in Las Vegas, Nevada, taking place March 7 through March 11.

For more information on New Holland's 2017 EquipmentWatch award, visit
. For more information on announcements and launches, follow New Holland on Twitter at www.twitter.com/NHAgriculture <> and on Facebook at www.facebook.com/NewHollandAgriculture.

About New Holland
New Holland Agriculture and New Holland Construction sell and service an innovative line of agricultural and construction equipment, including a full line of tractors, hay and forage equipment, harvesting, crop production, skid steer and compact track loaders, compact wheel loaders, tractor loader backhoes and mini excavators. Sales, parts and service are provided by more than 1,000 New Holland dealers throughout North America. More information on New Holland can be found at www.newholland.com/na
.


New Holland is a brand of CNH Industrial N.V., a World leader in Capital Goods listed on the New York Stock Exchange (NYSE: CNHI) and on the Mercato Telematico Azionario of the Borsa Italiana (MI: CNHI). More information about CNH Industrial can be found online at www.cnhindustrial.com
.