This item has been supplied by a forage marketer and has not been edited, verified or endorsed by Hay & Forage Grower.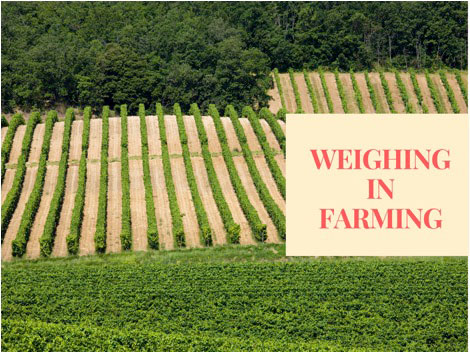 If you are in farming or have an agricultural based business, you understand the importance of weighing your produce accurately. Having dependable scales allows you to carry out high-volume weight measurements with ease, especially during the peak of the harvest season or when you receive huge orders from your customers.
Keeping this in mind, you must invest in on-board weighing solutions for your facility which can optimize farming operations tremendously. On-board weighing systems are really efficient and since they are portable, they can meet the needs and requirements of a number of different farmers. Let us learn more about on-board weighing solutions and what they can bring to the table.
How Do They Work?
On-board weighing scales can be fixed onto the vehicle of your choice, whether a haul truck, tractor trailer or a normal truck. These scales are capable of measuring the weight of the produce as it is loaded onto the vehicle. You can store all the data on the weights and analyze it whenever you need. You can even retrieve the data as and when you want. You no longer have to measure or weigh the produce when it arrives at the warehouse as it is already weighed at the farm. You can choose from a variety of on-board weighing solutions to suit different needs as well as the quantity/volume weighing requirements.
4 Different Types of On-board Weighing Systems
Companies have developed different kinds of on-board weighing solutions over the past few years. Let us look at some of the most popular and commonly used on-board scales that are used by farmers and agricultural businesses to haul crops and harvest loads.
1. On-Board Truck Scales: Truck scales are really versatile and can be installed in a variety of vehicles such as tractor-trailers, haul trucks, etc.
2. On-Board Loader Scales: They are designed to be used with any kind of loader. They are extremely durable and quite easy to install.
3. On-Board Skid Steer Scales: If you use skid steers frequently, then these scales would be perfect for it.
4. On-Board Grain Cart Scales: These scales are ideal for grain carts. You can choose from a wide range of designs and weight options.
Benefits of On-board Scales
You can enjoy a plethora of benefits by using on-board scales as compared to conventional truck scale systems. Let us look at a few of them.
Accuracy Measurements: You can be assured of getting absolutely accurate measurements of the load due to the precise technology they feature.


Cost Efficient: The traditional way of weighing the produce involved a number of people loading and unloading, while others read the weight and some would tally the total. This means you had to pay every single person involved in the process, which increased the costs. On the other hand, you just need one to two people to weigh using on-board scales, thus helping you save money.


Saves Time: When you have on-board truck scales, you don't have to repeatedly weigh the load. You can just weigh it once, either at the warehouse or the farm from where it is collected. This helps you save time by eliminating the need to constantly load and unload the produce to weigh at the site and then again at the collection point.



Flexible Solutions: On-board scales are quite versatile, which can be used on different surfaces and a variety of vehicles of different sizes.
Now that you understand the importance of scales in farming, do not hesitate to make them a part of your facility. However, do your homework before purchasing them. Check which type of scales work the best for you and ensure that you buy only from reputed brands as they promise scales that are accurate, user-friendly and which require minimal maintenance. Further, they will also help in lowering your operational costs.
Author: Kevin Hill is the content editor and online marketing manager at Quality Scales Unlimited.