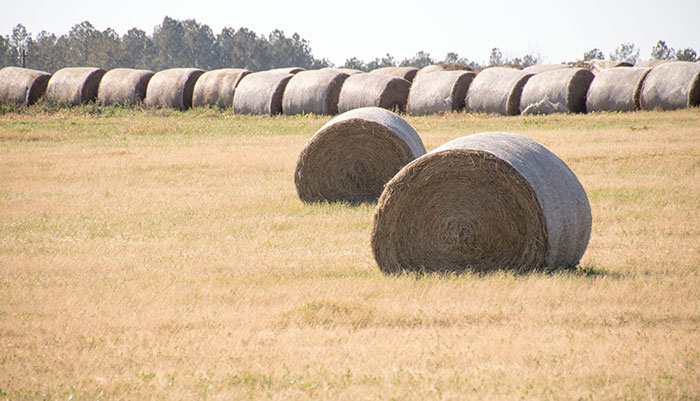 With summer rapidly approaching, it is important to give adequate thought to proper postbaling storage techniques. Hay storage losses can destroy up to 40 percent of the finished product if simple steps in prevention are not taken.
"Obviously, it would be ideal to store hay inside, but that will not often be practical," says Glenn Selk, Oklahoma State University emeritus extension animal scientist. "The next best option is when the hay is stored on something that gets it off the ground and under a rain shedding cover."
In Oklahoma extension's Cow/Calf newsletter, Selk cites a trial conducted by University of Tennessee animal scientists that focused on six different storage methods and their respective hay loss percentages. The hay, cut and baled in June, was weighed at harvest and stored, then weighed again prior to winter feeding in January. The results are presented in Table 1.
Although rainfall amounts will vary with region, consider storage loss regardless of location.
Reducing moisture absorption is a key factor in reducing losses. Selk notes that the storage site should be well-drained, in sunlight, and have adequate airflow to improve drying.
"As much as 12 inches of the bottom of a bale can be lost through moisture absorption resulting from the wicking action," Selk says. "Ground contact can account for over half of the total dry matter losses."
To combat this, Selk suggests either a 6-inch deep layer of crushed rock to allow for drainage or using scrap materials such as pallets, used tires, and fenceposts to keep bales elevated.
Selk added that besides storing bales end-to-end, they should also be positioned north-south with 3 feet or more between rows. This method allows for improved airflow and greater sunlight penetration, keeping the location drier post-rain. Mow vegetation between bales to further enhance the drying environment.
Selk cites research showing that bales used before early spring were not greatly impacted by orientation; however, bales stored east-west throughout summer experienced acute damage on their north side.
Table 2 outlines expected dry matter losses for round bales stored under various conditions. For additional information, see OSU extension factsheet "Round Bale Storage."

Lauren Peterson
is serving as the 2017
Hay & Forage Grower
summer editorial intern. She is from Wyanet, Ill., and currently attends Kansas State University where she is pursuing a degree in agricultural communications and journalism. While at school, Lauren works at the KSU dairy farm and is an active member of the Horseman's Association.