According to the National Oceanic and Atmospheric Administration (NOAA), there is a greater than 90 percent chance that El Niño will continue through the Northern Hemisphere winter in 2015 to 2016, and around an 80 percent chance it will last into early spring 2016.
Among other things, a winter El Niño results in stormy conditions and higher precipitation across California and the southern U.S, and less stormy conditions across the northern part of the country. Also, there is more marine air that flows into western North America, along with a reduced northerly flow of cold air from Canada to the United States. These conditions result in a milder than normal winter across the northern states and western Canada (see figure).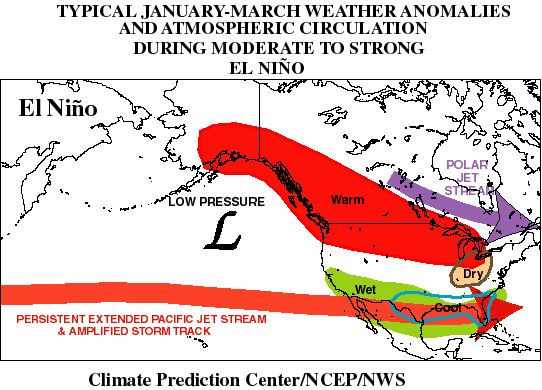 There have been a plethora of meteorologists weigh-in on the current situation and most, if not all, point to the countless models that seem to indicate not just an El Niño for the near term, but a very strong one.
So what will this mean for forage producers across the U.S.? First, we have to assume the meteorologists are all correct (insert cynical smile here). If they are, we can start in the West where rain will be largely welcomed after an extended drought. Of course, too much, too fast can have some damaging impacts as well. Most Northerners might welcome a warm winter, but the prospect of what translates to less snow cover or quickly melting snow has never been positive for perennial forages like alfalfa.
So, it will be interesting to watch over the coming months to see if this strong El Niño persists. For now it makes for good feed mill and grain elevator talk.