This item has been supplied by a forage marketer and has not been edited, verified or endorsed by Hay & Forage Grower.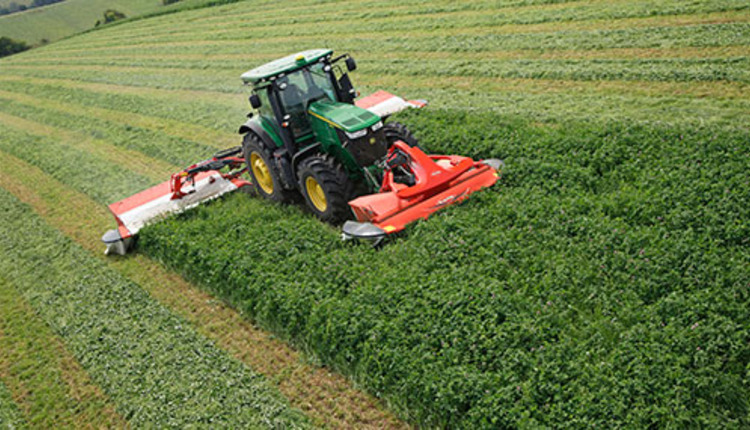 The new Kuhn triple mower conditioner combination, FC 3525 D F front mount and FC 10030 D rear mount, gives you the ability to cut and condition up to 32'6" of crop in a single pass. Whether you are a custom operator, dairy or beef producer, this combination unit, backed by years of research and development, will provide you with the cleanest cut and best conditioned crop.
The heavy-duty Optidisc® cutterbar is lubed-for-life providing minimal maintenance and maximum cutting efficiency with integrated Protectadrive® disc shear protection. The proven Fast-Fit blade change system allows an operator to rapidly quickly replace knives for optimum cutting performance. Adjust the conditioning intensity to match your harvesting window with the 2-speed DigiDry™ finger conditioner. This conditioner provides consistent drying of grasses and legumes. The unique direct drive design eliminates belts and provides maximum power regardless of crop volume.
Both mower conditioners have superior ground adaptation as a result of the hydro-pneumatic suspension, which limits ash content and compensates for immovable field obstacles. For further ground adaptation, the front unit features an industry-leading 27 ½" range of vertical travel and can oscillate from side to side a total of 30 degrees. Learn more about this new Kuhn triple mower conditioner at www.KuhnNorthAmerica.com.
Kuhn North America, Inc., of Brodhead, Wisconsin, is a leading innovator in agricultural and industrial equipment, specializing in spreaders, mixers, hay tools and tillage tools. Kuhn, Kuhn Knight and Kuhn Krause products are sold by farm equipment dealers throughout the United States, Canada and many other countries.