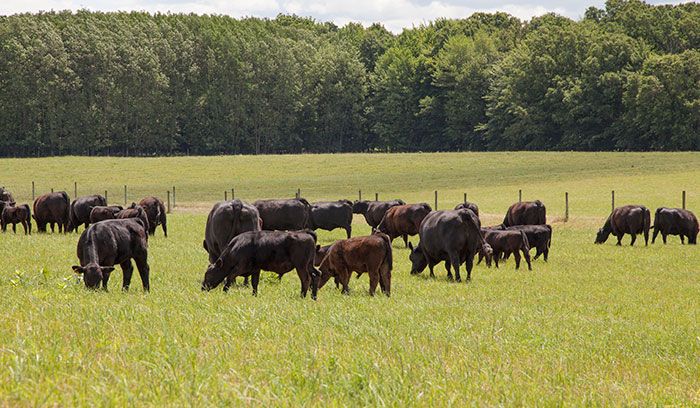 Southern beef cattle producers need to think beyond just grazing bermudagrass or bahiagrass from May through mid-October and feeding hay for the duration of the calendar year. That was the essence of the message provided by John Jennings, extension forage specialist with the University of Arkansas.
Speaking at the Cattlemen's College as a part of the National Cattlemen's Beef Association's (NCBA) Cattle Industry Convention held in New Orleans, La., Jennings encouraged attendees to always be thinking and planning forage systems one year ahead; in effect, to have a plan that makes success for your operation rather than just hope for it.
"Our surveys show that for an average 100-cow herd, 200 or more hours are spent during the summer baling hay and another 200 hours or more are spent during the winter feeding hay," Jennings said. "We need to keep in mind that growing a pasture crop takes the same management as growing a hay crop."
There are multiple ways to extend the grazing season on most farms and ranches in the South. "Without doing anything at all, we can stockpile that bermudagrass or bahiagrass, which will provide grazing forage through most of December," Jennings noted.
In central Arkansas, he usually suggests to clean off old bermudagrass growth by August 1 on a portion of the pastures. Don't brush hog it; rather, cut it to a 3-inch stubble and remove the old growth. Next, apply 50 to 60 pounds of nitrogen per acre, then defer grazing until mid-October.
"For best utilization, stockpiled pastures need to be strip grazed," Jennings said. "This will double the number of grazing days. In our surveys of producers who have implemented this stockpiling system, we've found that they are saving $58 per animal unit and achieving 110 animal unit grazing days per acre," he added.
Moving to the next level
Though stockpiling is a tried and true profit generator, taking a grazing system to a higher plane usually involves the integration of annual forages for grazing from late fall through early spring.
"If you're planting annual forages such as ryegrass, cereal forages, or brassicas, date of planting will dictate when you can start grazing them," Jennings said. "In central Arkansas, they need to be planted in late August to have forage available for late fall. Planting later, such as October, might be a strategy for having spring grazing forage."
Planting summer annuals in the late summer is also a practice that Jennings has investigated. He showed data from 2018 where a variety of summer annuals (sorghum-sudangrass, pearl millet, browntop millet, grazing corn, and a couple of open pollinated corn varieties) were planted on August 30 in Fayetteville.
After six weeks, dry matter yields across the forage types ranged from 2,600 to over 3,400 pounds per acre. Jennings noted that the quality remained more than adequate even after a killing frost. He did warn to secure your seed early because by late in the season many seed companies have exhausted their supplies.
Jennings said he's been recently getting a lot of questions about what to plant for a spring forage crop if nothing got planted last fall because of unfavorable soil conditions. From his studies where various forage types were planted in early March, oats (winter or spring types) or a good winter-tolerant ryegrass are the best alternatives.
Alfalfa in the South
A practice of growing interest in the South has been fall seeding alfalfa into bermudagrass when the warm-season perennial is going dormant.
"Using a Roundup Ready alfalfa variety makes it easier to control those winter annual weeds but isn't necessarily a requirement for success," Jennings said. "However, make sure the bermudagrass stubble is short when you plant."
Once established in the fall, the forage specialist said the alfalfa will come up earlier in the spring than the bermudagrass.
"Alfalfa will continue to suppress the bermudagrass throughout the growing season," Jennings noted. "Some of the stands of alfalfa established in Arkansas lasted eight years in some of our earlier research trials."
If the alfalfa is grazed, he said that it will open up the stand more and allow for additional bermudagrass growth, providing a nice grass-legume mixture. As the stands age and the alfalfa kills out, more bermudagrass will be present.
Jennings noted that to be successful in maximizing your grazing days over a calendar year, it's critical that you meet your optimum seeding date and fertilization time points. He wrapped up his presentation with these "important forage truths" to consider as you map your grazing path forward:
1. It always rains after a drought.
2. You cannot predict the weather 30 days out.
3. You can predict your forage practices 30 days out.
4. Stockpiling forages works more than 90 percent of the time.
5. Winter and summer annuals are options to fill forage gaps.
6. Always plan one season ahead.