This item has been supplied by a forage marketer and has not been edited, verified or endorsed by Hay & Forage Grower.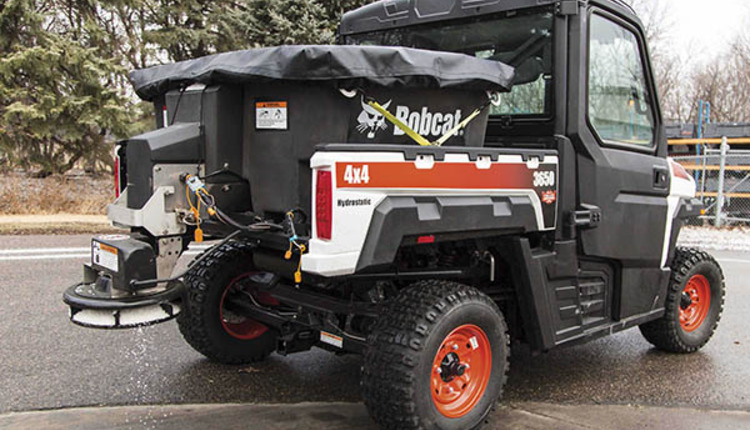 Bobcat Company has broadened its utility vehicle attachment versatility with a new
spreader
, available for Model Year (MY) 15
3400
,
3600
and
3650
utility vehicles. This is the first spreader attachment specifically designed for use with select Bobcat® utility vehicles, and is specially fitted for the cargo box.
The spreader is securely mounted in the utility vehicle's cargo box, and is designed to efficiently spread sand and salt for winter maintenance tasks. Powered by a 12-volt DC drive motor, the new spreader can distribute salt or sand — from 5 to 38 feet — from the spinner wheel to melt snow and ice from surfaces. Utility vehicle operators can spread salt and sand on sidewalks, trails, driveways, intersections and parking lots, where larger vehicles often cannot access because of space restrictions.
Precise placement, control
Bobcat utility vehicle operators can precisely distribute salt or sand without leaving their seat. Two variable-speed dials on the dash-mounted control allow for independent adjustment of the auger and spinner control. A three-stage baffle is another feature that allows operators to adjust the material flow for proper material granularity.
The rust-resistant, double-wall poly-molded hopper is ultra-durable and rugged enough for ice and snow applications. It can hold up to 10.6 cubic feet of heaped (7.8 cubic feet struck [level]) salt or sand. In addition, a mesh screen at the top of the hopper allows for large chunks of sand and salt to be filtered at an even and consistent flow. A vibrator feature also helps reduce the bridging of material for a constant and even flow.
Easy installation
Buildings and grounds professionals, homeowners with acreage and snow removal specialists will appreciate how easy it is to install and remove the spreader from the cargo box. Attaching and detaching the spreader can be a one-person job because of the pallet fork slots. A convenient spring-latch locking mechanism easily allows the spreader's spinner to be removed for storage and cleaning.
QuickLook: Utility vehicle spreader (SPDR-7-UV)
Weight (hopper empty): 200 lb.
Hopper height: 23 in.
Width: 51 in.
Hopper capacity (heaped): 10.6 cu. ft. (0.4 cu. yd.)
Hopper capacity (struck): 7.8 cu. ft. (0.3 cu. yd.)
Power supply: 12-volt DC direct-drive motor
Spreading pattern: 5 – 38 ft.
Speed control: Variable-speed control dial
Recommended field-installed accessories: Spreader rear light kit and two external mirrors
ABOUT BOBCAT COMPANY
Bobcat Company, headquartered in West Fargo, North Dakota, is a worldwide leader in the manufacturing and distribution of compact equipment. Bobcat compact equipment includes skid-steer, all-wheel steer and compact track loaders; compact excavators; mini-track loaders; VersaHANDLER® telescopic tool carriers; utility vehicles and Toolcat™ utility work machines. Bobcat is a global brand with more than 550 dealer locations in North America and the leader in compact equipment — the industry's original innovator, beginning more than 50 years ago with the first compact machine and predecessor to the skid-steer loader. Bobcat Company is a subsidiary of Doosan Infracore Bobcat Holdings Co., Ltd., a wholly owned subsidiary of Doosan Infracore Co., Ltd. For more information on Bobcat products, visit Bobcat.com.
Certain specification(s) are based on engineering calculations and are not actual measurements. Specification(s) are provided for comparison purposes only and are subject to change without notice. Specification(s) for your individual Bobcat equipment will vary based on normal variations in design, manufacturing, operating conditions, and other factors.