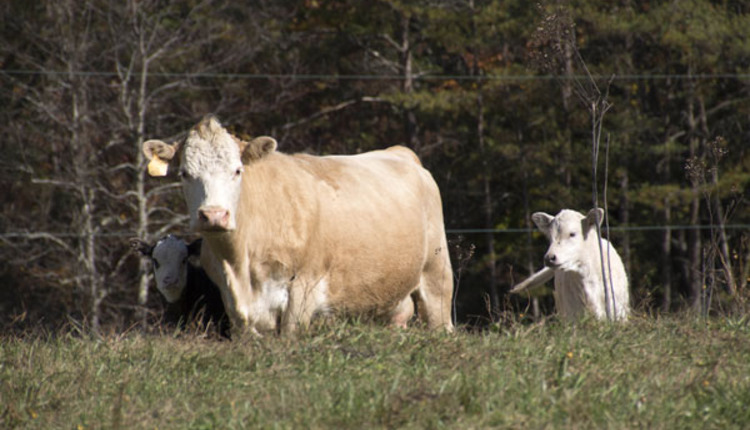 Stockpiling tall fescue in pastures for winter feeding is a common practice to help stretch stored forage inventories. Fescue forage quality can be very good, but John Jennings, University of Arkansas extension forage specialist, cautions that energy supplementation may be needed for lactating cows in late winter. He notes, however, that forage crude protein (CP) generally stays above cow requirements through the winter. Arkansas on-farm demonstration samples of stockpiled fescue from several years ago showed a range in quality from a high of 34.6 percent CP in October to a low of 9.7 percent CP in March (see figure). Total digestible nutrients ranged from 84.9 percent in October to 51.9 percent by spring. All of the forage samples met the CP and TDN requirements for a 1,100-pound dry beef cow. For a lactating cow, 97 percent of samples met the protein requirements, while 76 percent provided adequate TDN. Forage quality was highest in October and November but declined through the winter.
Crude protein and TDN content of stockpiled fescue from October to March in Arkansas on-farm demonstrations (2002 to 2006)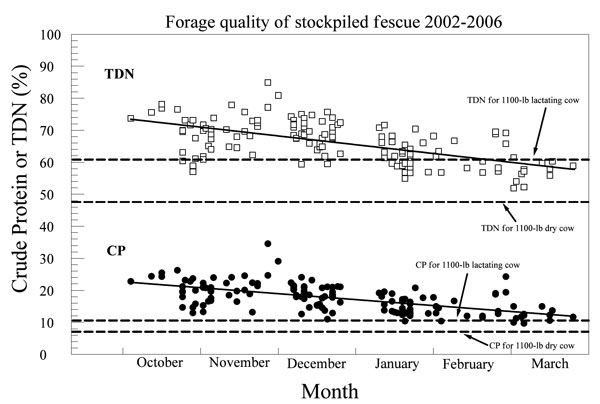 Cattle performance on tall fescue often does not match with the forage quality analysis. Jennings says this is often due to lower forage intake caused by the toxic effects of the fescue endophyte. Research indicates that when stocker calves graze stockpiled fescue from a nontoxic endophyte fescue variety, weight gains are much higher and are similar to that on ryegrass pastures. Growing cattle grazing toxic stockpiled fescue respond well to feed supplementation. High-energy supplements provide the most benefit, as CP is usually adequate in the forage. Supplementation at rates of 0.3 to 1.5 percent of body weight has increased average daily gains by 0.1 to 0.5 pounds per day. Jennings says most fescue pastures are infected with an endophyte that produces toxicosis in grazing animals. Fortunately, research in Missouri and Arkansas has shown that toxin levels, specifically ergovaline, declines through the winter when grazing of stockpiled fescue would occur. Cows grazing highly infected toxic endophyte fescue pastures during winter will occasionally develop a disorder called fescue foot. This is most likely to occur following periods of extremely cold weather.
Fescue foot is characterized by symptoms such as lameness, loss of tail switches or ear tips, and/or loss of rear hooves in extreme cases. Monitor animals closely if stockpiled fescue pastures are known to be highly endophyte-infected or if animals have shown symptoms in the past. Jennings explains that affected animals will recover if the problem is detected early and animals are removed from the pasture and fed nontoxic hay or supplement. Finally, Jennings notes that fescue foot and fescue toxicosis are not known to occur in cattle grazing v
arieties of endophyte-free fescue or nontoxic, novel endophyte fescue.