"Your cattle can be a tool used to improve the forage stand in less productive pasture areas," said Ted Krasukopf, a Highland, Ill., beef producer.
Krasukopf has observed significant benefits from boosting his stock density. Improvements in dry matter production have occurred by thickening stands and diversifying forage species. Soils are healthier as a result of better water infiltration and from trampled residue insulating the soil, which reduces evaporation and encourages microbe activity. The earthworm populations also grew, which he sees as beneficial to the soil.
At last week's Illinois Forage Expo in Carbondale, Krasukopf shared that he started rotational grazing 20 years ago and found it to be a good fit for his operation. In 2007, he received an Environmental Quality Incentives Program contract to improve his pasture, which included fencing, water in paddocks, and a winter-feeding station. The contract allowed him to stockpile forage for winter strip grazing. He has continued to strip graze whenever forage is available.
Last year was his first attempt at high stock density grazing, and he is planning to continue the practice again this year. There are variations in stock densities people use, but Krasukopf has heard others say to have a minimum stock density of 250,000 pounds of cattle per acre grazing at one time.
"I don't have that many cows, so they are going to get less than an acre at a time," Krasukopf said.
He estimated his 39 cows each weigh around 1,250 pounds, which meant his total herd weight was 48,750 pounds. Initially, Krasukopf set his stock density per acre at 300,000 pounds. Since the herd weighed 16 percent of the density he wanted, he cut their grazing area per move to 16 percent of one acre, or about 7,000 square feet.
With these calculations, Krasukopf could allow the pounds of forage required per cow to determine the number of moves. Last year he chose to move them five times per day. "It is important to allow existing vegetation to mature before beginning a high stock density grazing system," Krasukopf noted.
Cattle are going to consume about one-third of the grass and trample the rest down to the soil surface. The trampled forage is not wasted because the residue will become the mat that insulates the soil from getting too hot. According to Krasukopf, this reduces evaporation, and along with the fertilizer the cattle distribute, it creates a favorable environment for the seeds in the soil bank to germinate.
"I'm going to be doing the grazing for about 10 days and for a specific purpose: To improve the forage stand in my pasture," Krasukopf said.
In order for this system to find success, you will need water in a paddock, portable fencing, and a strong fence charger. Choose an area of pasture that needs improving and let the cattle be the tools used to achieve a more productive and better quality pasture.
Advancing to high stock density grazing for specific portions of his pasture has paid dividends for Krasukopf. Improved soil health, coupled with more diverse forage species, has translated to a more productive beef herd.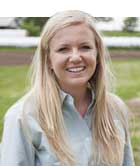 Sydney Sleep
Sydney Sleep grew up on her family's Angus operation outside of Spearfish, S.D. She is currently attending South Dakota State University where she is pursuing a degree in agriculture communications. At college, Sleep is an ambassador for the SDSU College of Agriculture and Biological Sciences, is a member of Sigma Alpha professional agricultural sorority, and works as the communications assistant for the College of Agriculture and Biological Sciences. She is serving as the 2016 Hay & Forage Grower summer editorial intern.