A new white clover variety bred specifically to improve and maintain healthy, productive pastures has been released for seeding.
Renovation is the first commercial product from a joint breeding effort between The Samuel Roberts Noble Foundation and University of Georgia. It is also the first white clover variety released by the Noble Foundation.
The breeding program goal was to develop a new white clover variety that would aid in restoring perennial grass pastures throughout the southern U.S.
"Renovation's genetic makeup results from a southern clover variety bred with a large-leaf variety to produce excellent overall persistence and animal performance," said Mike Trammell, Noble Foundation plant breeder, in a recent news release.
The clover has improved longevity due to greater stolon density. Wider leaves also provide more forage and less weed pressure. In addition, its ability to aggressively spread helps with erosion control and slope stabilization.
Renovation makes it possible to maintain a 20 percent or more pasture legume component for optimal animal performance. When planted in toxic endophyte pastures, it dilutes the effects of endophyte toxicity.
Additionally, the clover is a viable option for wildlife food plots because it provides high-protein feed, is a seasonal attractant, and contributes nitrogen to surrounding plants.
It can be planted as a companion legume with cool-season grasses or be seeded into warm-season pastures, acting as a short-lived perennial or self-seeding annual, depending on the location.
The clover performs best on moist, well-drained, fertile soil. Similar to other cool-season clovers, it needs time to establish before harsh weather conditions. In the lower South, fall is the ideal planting time. In the upper South, plant mid to late fall or early spring. In the North, plant in early fall or spring.
Joe Bouton, retired Noble Foundation Forage Improvement Division director, noted that Renovation can be utilized in areas around the world with similar ecological systems. "We believe the new variety will have a positive impact for agricultural producers and the longevity of their pastures," he said.
Renovation is available for purchase through Smith Seed Services. For more information, visit renovationclover.com.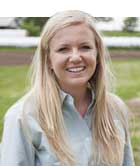 Sydney Sleep was the 2016 Hay & Forage Grower summer editorial intern and is a junior at South Dakota University.