When the first green grass appears, it can be tempting to turn horses out to graze immediately. However, for the health of the horse and pasture, the grass needs to have time to grow before horses are allowed to graze.
"Introduce horses slowly and delay turnout until grasses reach 6 to 8 inches in height," says Krishona Martinson, University of Minnesota extension equine specialist.
Martinson suggests that horses only be allowed to graze for 15 minutes during the initial turnout. The grazing time can be extended each day for 15 minutes until four to five hours of consecutive grazing time is reached. Following this, unrestricted or continuous grazing may resume.
Martinson recommends feeding horses their normal hay diet prior to turning them out to pasture during the first few grazing events of the year, including the time restrictions. This practice helps prevent rapid intake of pasture grasses.
Horses are hindgut-fermenting herbivores that rely extensively on the microbes present in the gastrointestinal tract to digest forages. Hay and pasture have significant differences in moisture levels, dry hay is about 15 percent moisture while fresh pasture is 85 percent moisture, so a gradual change from one feedstuff to another allows enough time for the microbial populations of the gut to adjust.
Pasture grasses need to reach 6 inches tall before they are grazed because photosynthesis occurs mainly in the leaves. Therefore, if the leaves are grazed too early or too frequently, the plants may lose vigor, competitiveness, and root structure due to a lack of photosynthetic ability. As a result, the plants will eventually die and overgrazed areas will be replaced with undesirable plant species or weeds.
Martinson suggests discontinuing grazing when forages have been grazed to 3 to 4 inches. Move horses to another paddock or drylot to allow grasses to regrow. When the grasses reach 6 to 8 inches again, grazing may resume.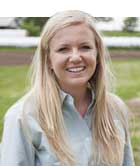 Sydney Sleep was the 2016 Hay & Forage Grower summer editorial intern and is a junior at South Dakota University.