This item has been supplied by a forage marketer and has not been edited, verified or endorsed by Hay & Forage Grower.
John Deere introduces the AB485 Air Boom option to its
F4365 High-Capacity Nutrient Applicator
to give ag service providers and large-scale crop producers greater control in the application of dry fertilizer while covering more acres per day.
The new air boom option allows operators to more accurately apply dry fertilizer across a wide 70-ft. swath at speeds up to 30 mph, and at maximum rates up to 1,200 lbs. per acre at 10 mph. With its 300-cubic ft. capacity dry box and dual-bin configuration, customers can simultaneously apply up to two products at variable rates to better meet crop nutrient needs with fewer passes over the field.
The rugged, stainless steel tubing of the AB485 provides strength and structure to the extended booms. The new air boom is powered by a simple and efficient air distribution system that consistently delivers an even flow of dry fertilizer from the dry box, through the booms and down to the ground. Plus, with John Deere AutoTrac™ and half-boom width Section Control, operators can more accurately apply product to the field, resulting in fewer overlaps and gaps and reduced input costs.
"The air boom option gives commercial applicators and large farming operations even more flexibility when using the High-Capacity Nutrient Applicator for many types of dry fertilizer applications in their operations," says Doug Felter, product marketing manager for John Deere application equipment. "It combines application speed and accuracy with the comfort and power built into the F4365, thanks to the John Deere PowerTech™ PSS 9L engine and IVT transmission that provides more power to the ground and greater acceleration compared to competitive four-wheel machines."
Felter adds that since the High-Capacity Nutrient Applicator was introduced in 2016, customers have commented on the enhanced comfort, quiet operation and power of these machines, especially when operated under a full load on hilly or uneven terrain.
Along with John Deere Section Control and AutoTrac, these machines integrate the latest technology, including a new 4600 CommandCenter™ Display with SpreadStar™. JDLink™ Connect and Wireless Data Transfer, along with AgLogic™, are available to enable even better management of the machine and operator, as well as enable more timely data transfer.
"With the versatility of using either the DN495 Dry Spinner Spreader or new AB485 Air Boom, the F4365 is the most durable, comfortable and productive dry nutrient applicator in the field," adds Felter. "With a 46 mph road transport speed, customers can more quickly get from field to field to more accurately apply dry fertilizer and other inputs to their fields and improve crop yields and their productivity."
The AB485 Air Boom option comes factory-installed on new F4365 machines for model year 2018. For more information on the air boom option for the F4365 High-Capacity Nutrient Applicator, contact your local John Deere dealer or visit JohnDeere.com/ag.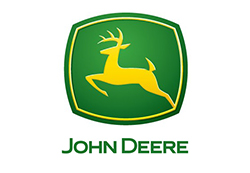 Deere & Company (NYSE: DE) is a world leader in providing advanced products and services and is committed to the success of customers whose work is linked to the land - those who cultivate, harvest, transform, enrich and build upon the land to meet the world's dramatically increasing need for food, fuel, shelter and infrastructure. Since 1837, John Deere has delivered innovative products of superior quality built on a tradition of integrity. For more information, visit John Deere at its worldwide website at

www.JohnDeere.com

.