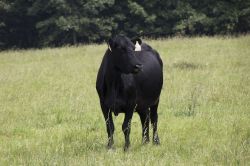 The 2015 Grassfed Exchange Conference expects to attract hundreds of farmers, ranchers and industry supporters to Mount Pleasant, Mich., during September 16 to 18.
The conference begins with a tour starting with a morning stop at Graham's Organic Meats and Processing in Rosebush. The afternoon will be spent at the Michigan State University Lake City Research Center.
Presentations begin on Thursday and continue through the day on Friday. Highlighted speakers include Dr. Daphne Miller, author of Farmocology; Nicolette Niman, author of In Defense of Beef; and Mark Schatzker, author of the books Steak and The Dorito Effect.
The conference will also offer presentations on grazing, small to medium-sized packing and processing, and topics pertaining to human health and farm succession.
The Grassfed Exchange is a nonprofit organization that provides information about grassfed production, soil health and environmental quality. For more information and registration information, visit http://www.grassfedexchange.com