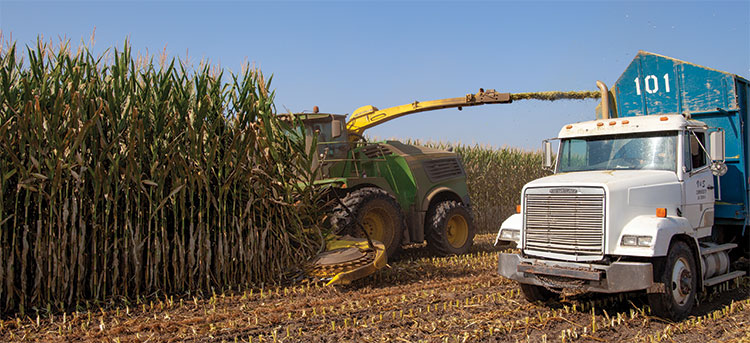 California's Central Valley is a massive expanse of agricultural production. The sheer size of the valley is only matched by the variety of commodities produced. All major food groups have significant representation.
Near the southern tip of the valley sits Tulare County and a city by the same name. To call Tulare a good dairy county would be akin to calling Illinois a little flat. The county is home to about 380,000 cows and is the largest dairy-producing county in the United States. It's held that position for some time.
Many of the dairy producers in that region rely on custom operators to harvest the massive amount of feed needed to sustain production. From a chopped-feed perspective, much of the dairy ration consists of corn silage and wheatlage, though alfalfa, sorghum, and sudangrass are also utilized. Wheat is grown during the winter and harvested before corn is planted. A lot of the alfalfa produced is baled.
Sitting at his desk, in a farm office just outside of Tulare, I found Matthew Sepeda, an amiable, well-spoken individual who started working for Vieira Custom Chopping Inc. 26 years ago. Since that time, forage choppers have been his life.
These days, Sepeda is the general manager and chief financial officer for the company. He also owns a trucking business and helps his brothers at their nearby family farm.
Long history
The predecessor of Vieira Custom Chopping began the business in 1954. The company had several owners until the current one, Arnold Vieira, bought the business in 1976. At one time, it was the largest forage chopping company in the world, operating 28 forage harvesters.
"We'd do from 1 to 1.2 million tons of corn every season," Sepeda said. "With hay and wheat, that total would push to 1.4 million tons. Wheat wasn't so popular then like it is today."
"In 1999, we decided to trim our workload and downsize," Sepeda explained. "We went from 22 choppers down to 15."
These days, Vieira is semi-retired, though he still owns the company and stays close to the day-to-day operations and business decisions. Vieira Custom Chopping currently owns and operates 14 self-propelled forage harvesters. It also has 10 mowers and one dozer tractor. Silage hauling and the majority of packing needs are usually subcontracted with other providers.
"We serve about 30 dairy customers within a 25-mile radius of our home base," Sepeda said. "We typically run four crews but will push to five during wheat season if needed. All totaled, we chop about 700,000 tons per year, including corn silage, alfalfa, wheat, and sudangrass."
Getting through the spring wheat-chopping season presents more of a challenge than corn, according to Sepeda. "Last year, we did 14,000 acres of wheat, over 200,000 tons, in a period of about 25 days. The thing about wheat is that it's all ready at once. Also, wheat is a lot tougher to chop than corn because it's more abrasive going through the machines. There's just more dirt involved," he said.
A Deere relationship
One thing making Vieira Custom Chopping a unique business is that they provide somewhat of a testing grounds for John Deere self-propelled forage harvesters. It's been that way for a long time.
"I've been here 26 years and John Deere has been here longer than that," Sepeda said. "They generally have at least two machines here at any given time for us to test." Most of Vieira's fleet of 14 choppers consists of 7000 series John Deere units, though there are a few 8000 series machines as well. Last August, when I visited, three of Deere's new 9000 series machines were being put through the paces of corn silage harvest.
"With the combination of heat, dust, and big yields, these are pretty demanding conditions out here," said Kyle Salsbery, a product verification and validation engineer for John Deere who oversees the on-site testing protocols. "If there are going to be opportunities for improvement, it's easier to find them out here compared to the Midwest."
Vieira leases a shop building and office space to John Deere. It's here where system components are analyzed and detailed records are kept on performance. Salsbery and his team then share data and observations with engineers in Germany, where the self-propelled harvesters are assembled.
Typically, several different iterations of a machine are built and tested before mass production protocols are finalized. "It's a longer process than most people realize," Salsbery said.
The "on paper" design concept takes about one year. Three "mule builds" are then assembled to test the concept in hard iron; this may entail another two years. Next comes a "durability build," which refines the machine closer to production intent. "We'll run four of these units for two years or more and another six units for about a year," Salsbery explained. "At this point, the machine is close to 75 percent of the final product."
The last step before final assembly protocols are put in place is the "limited production build." These machines, of which 16 were built for the 9000 series, are 90 to 95 percent of what the final assembly will look like. They are tested in all of the major markets, according to Salsbery.
Current challenges
The business of custom forage harvesting has never been one for the weak of heart. Scheduling jobs, meeting client demands, and working around the weather can bring even the strongest among the human race to their knees. For Sepeda, he adds labor as an ever-growing business challenge. They currently employ about 35 people in the spring and 25 during the fall.
"When I first started working here, we would have a stack of job applications," Sepeda explained. "Today, we have to pursue potential employees on Craig's List or by other means. We now have mostly Hispanic employees, and many of them have been with us for over 10 years."
Sepeda noted that there is a lot of variation in how clients and dairy nutritionists want their corn chopped. These variations can include cutting height, whole-plant moisture, and kernel processing protocol. "We try to educate our clients and the nutritionists on what is possible and recommended," Sepeda said. "At the end of the day, however, we are providing a service. If the customer wants wet silage, that's what we'll do, even though it may not be ideal in our eyes or in the eyes of the industry."
At one time, it was difficult to meet the demands that clients and their nutritionists were making for kernel processing without severe wear on the processing units. That situation has changed dramatically over the years.
"In addition to the enhanced power found in these new machines, I've been most impressed with the improvement in kernel processing," Sepeda noted. "We need to have those kernel pieces under 5 millimeters, and these new processors can do that pretty easily. Boosting the roll speed differentials has really helped. It's been a win-win for everyone involved."
---
This article appeared in the January 2019 issue of Hay & Forage Grower on pages 22 and 23.
Not a subscriber? Click to get the print magazine.