This item has been supplied by a forage marketer and has not been edited, verified or endorsed by Hay & Forage Grower.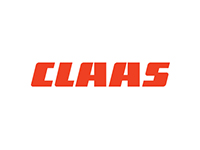 CLAAS of America today announced additions to its range of balers and hay tools. New offerings include the DISCO 4000 TRC mower/conditioner, ROLLANT 520 round baler and VOLTO 55 TH tedder."We're extremely pleased to introduce these new innovations to our full line of grain, hay and forage harvesting products," said Matt Jaynes, Product Manager for Balers and Hay Tools, CLAAS of America. "The DISCO 4000 TRC, ROLLANT 520 and VOLTO 55 TH provide farmers with reliable and integrated systems featuring better feed quality, strength, durability and speed for when the going gets tough."
DISCO 4000 TRC
Engineering advancements featured in the new DISCO 4000 TRC help deliver higher-quality feed, leading to improved milk production in dairy cattle. The MAX CUT cutterbar and ACTIVE FLOAT suspension result in a more evenly cut crop with less ash content. Also, new adjustable swath plates allow the operator to make any perfectly sized windrow.

Additional features of the DISCO 4000 TRC include:
– 12' 6" (3.8 m) working width
– Chevron rubber roller conditioner with double belt drive for less maintenance and more durability
– Spring-loaded pivoting cutterbar to keep the knives out of the soil for less ash and more protection of the stubble
– New windrow spreader plates make for a uniform density windrow
ROLLANT 520
CLAAS is also extending its range of round balers with the ROLLANT 520. The new ROLLANT 520 4 x 4 fixed-chamber round baler features an updated design and upgrades for better fermentation in properly formed bales. The result for the operator is reduced spoilage, improved milk production and reduced labor and materials loss. More efficiently packed bales mean fewer bales to handle and more feed per bale.
The ROLLANT 520 includes eight newly designed heavy-duty rollers that have 4 mm wall thickness and shafts bolted to 15 mm-thick flanges for improved strength and durability when baling tough crops.
Additional features of the ROLLANT 520 include:
– Updated drive concept for longer heavy-duty use
– Reinforced frame that's 20 percent thicker than the 300 Series
– 14-knife ROTO CUT chopping system for maximum throughput
– Hydraulic drop floor for blockage clearing
– 15 mm-thick flanges for improved durability
VOLTO 55 TH
The new VOLTO 55 TH helps operators spread the crop more evenly and faster for uniform dry down and preserved nutritional value of the crop. The tedder offers a faster ground speed and a more even spread pattern with the MAX SPREAD tine system. The very strong tube tine arms and PERMALINK drive system allow for high workloads for heavy windrow conditions. The innovative folding and tilt make it fast to move from field to field.
Additional features of the VOLTO 55 TH include:
– Reinforced tine arms and supports for longer life
– Equal length tines for less contact to reduce ash in the crop
– Hydraulic folding and tilt
– Adjustable tine angle for slower PTO speed to save leaves in alfalfa or clover
"For daily hay-based operations, growers need more than just robust machinery. They need harvesting systems that piece together seamlessly," Jaynes says. "Our coordinated machines support day-to-day operations and help customers achieve optimal results in forage harvesting."
CLAAS of America will feature the new baler and hay tool products at the 2019 Farm Progress Show, August 27–29, in Decatur, IL. For more information, visit the website at www.claas.com.