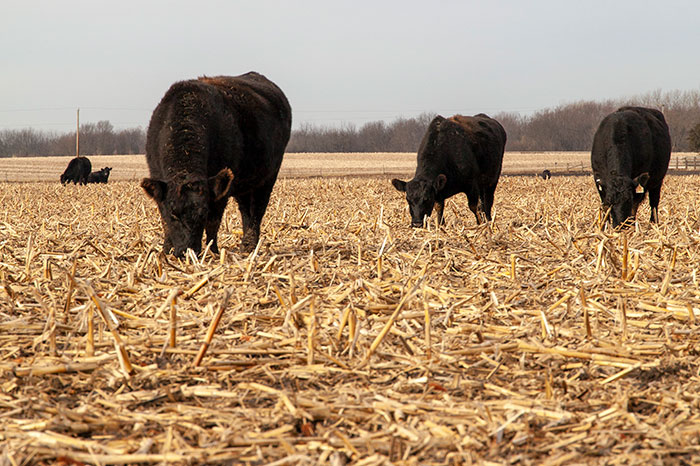 Harvest is underway in most of the country, and as corn is being harvested, a huge feed resource is being left behind. Cornstalk grazing is an excellent way to extend grazing economically and provide cattle with extra nutrients before winter.
In a recent University of Nebraska-Lincoln (UNL) Beefwatch article, Aaron Berger, a UNL Extension beef educator, lays out some tips and resources for producers looking to utilize cornstalk grazing.
Look over fields prior to grazing to get a better understanding of the amount of corn in the fields. Fields with more than 8 to 10 bushels of ears of corn per acre on the ground should be paired with a proper grazing strategy to control grain intake. Berger notes to be on the lookout for piles of grain, which can result in bloating or cattle death.
Determine stocking rate based on corn bushel yield per acre and the average weight of the cattle grazing. Berger recommends using the Corn Stalk Grazing Calculator to find the right stocking rate for your fields. Also, estimate grazing days by dividing corn bushel yield by 3.5. This finds the grazing days per acre available for a 1,200-pound, nonlactating cow.
The quality of grazing begins high but declines steadily throughout the grazing period because cows eat the good stuff first. Berger explains that total digestible nutrients begin around 70 percent but finish around 45 percent at the end of the grazing period. He notes the quality also depends on stocking rate and environmental factors such as moisture and field conditions.
Depending on age, cattle may require supplements while grazing. According to UNL research, mature, spring-calving cows with body scores of 5 or higher and not in lactation do not require supplements while cornstalk grazing. First-calf heifers within 90 days of calving require protein and energy to meet nutritional requirements. Berger recommends feeding 3.5 pounds per head of distillers grains to meet this requirement.
Fall-calving cattle will also need additional protein and energy. Berger notes these cattle need 4.5 pounds per head of supplement that is 30 percent protein and 90 percent total digestible nutrients on a dry matter basis.
Weaning calves with a target weight gain of 1 pound per day will need energy and protein supplements as well. A small amount of distillers grains per head per day, around 2 pounds, meets these weight gain goals according to Berger.
Be aware of deep snow and ice, which can severely limit grazing of cornstalks. Have a backup plan and other feed resources available to meet nutritional needs of your cattle.
Understanding what you have and how to use it makes cornstalk grazing an economical and nutritional option that extends grazing long into the winter. For more detailed information on cornstalk grazing click here.
---

Michaela King served as the 2019 Hay & Forage Grower summer editorial intern. She currently attends the University of Minnesota-Twin Cities and is majoring in professional journalism and photography. King grew up on a beef farm in Big Bend, Wis., where her 4-H experiences included showing both beef and dairy cattle.