Ionophores promote noteworthy weight gain in growing cattle and mature cows. This is true not just for feedlot cattle, but also those on pasture.
"The research is pretty compelling for both mature beef cattle and stockers grazing medium- to high-quality pasture," says Kim Mullenix, Auburn University extension beef specialist. "They exhibit greater weight gain and feed efficiency when provided an ionophore compared to nonsupplemented cattle."
In a recent issue of SE Cattle Advisor, Mullenix cited a research summary of 24 grazing trials. Cattle consuming 200 mg of monensin per head per day gained 0.20 pound more per day compared to those that were not supplemented.
"Ionophores are feed additives that single out gram-positive bacteria and protozoa in the rumen, improving fermentation," explains Mullenix. As a result of fewer waste products being manufactured, more desirable bacteria are able to grow. The bacteria create fermentation products that boost the energy of the animal, resulting in greater feed efficiency, she adds. It's important, however, that pastures be high quality to realize the performance benefits.
Usually ionophores are fed by being added into liquid or dry commercially manufactured feeds, mineral mixtures, or in small amounts when mixed into commercially formulated feeds. Monensin and lasalocid are the primary forms of ionophores for beef cattle on pasture.
Mullenix notes that beginning in December 2016, all antimicrobials administered through livestock feed will require a Veterinary Feed Directive (VFD). "A VFD is like a prescription written by a veterinarian for administering antimicrobials through feed," says Mullenix.
As typically administered, ionophores will not be affected by the changing FDA regulations. Mullenix clarifies that only antimicrobial drugs medically important in treating human disease and are FDA-approved for production purposes will be affected. Some ionophores, including lasalocid and monensin, will only require a VFD if used with a medically important antimicrobial.
View more details on the new VFD rules in an Alabama Extension fact sheet click the link.
---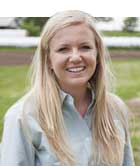 Sydney Sleep
Sydney Sleep grew up on her family's Angus operation outside of Spearfish, S.D. She is currently attending South Dakota State University where she is pursuing a degree in agriculture communications. At college, Sleep is an ambassador for the SDSU College of Agriculture and Biological Sciences, is a member of Sigma Alpha professional agricultural sorority, and works as the communications assistant for the College of Agriculture and Biological Sciences. She is serving as the 2016 Hay & Forage Grower summer editorial intern.